Consumer Electronics, Convenience, Eco Friendly, Gardening, Home Improvement, House and Home
Water Timer Automatic Hose Irrigation System
In Stock
(Ships Out Within 24 Hours)
Keep your lawn fresh and plants watered automatically
Easy to install without tools needed
1 to 240 minutes time setting
Conserve water efficiently
Precisely works on set time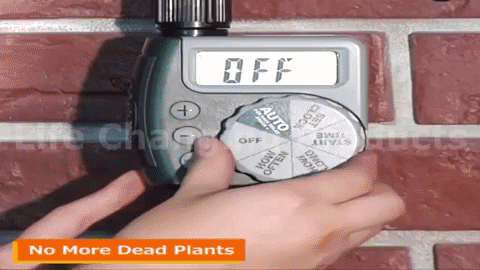 $73.00
& Free Shipping Worldwide
Water Timer Automatic Hose Irrigation System
Lessen your house works by watering your plants and keeping your lawn fresh automatically using this Water Timer. Designed to make controlling your garden watering simple so that it meets your precise customized needs. It enables you to set your desired need of frequency and duration for watering. Set precisely the start watering and stop watering time. A great investment which makes your life easier. You don't have to stand for too long and wait until you're done watering your plants and lawn.
Advantages
Set for 1 up to 240 minutes for each watering session. Program to water as many times needed per day as you wish.
Swivel coupling feature for easy and fast installation without any need for tools. Battery-operated.
Easy to skip watering sessions during and after rainy days without interrupting the program. Select the hours or day of watering should be skipped and it will work. Normal watering plan after the programmed delay set will return.
Avoid over-watering your plants because they can drown in too much water. Simply set it to stop watering when the timer goes off.
Very convenient if nobody is at home. You don't have to worry anymore about drying your lawn of killing your plants.
Makes you conserve water effectively. This water and hose timer only lets you use water how you needed it. Wasting water leads to paying more for your water bills.
Raw material belt included for using on threaded joints of metal or plastic water pipe.
| | |
| --- | --- |
| Weight | 0.42 kg |
| Dimensions | 20 × 21 × 10 cm |