Convenience, Family & Child, Health And Beauty, Kitchen, Outdoors and Camping
USB Portable Blender Fruit Juicer
930 Orders
In Stock
(Ships Out Within 24 Hours)
Mini juicer, portable and great for traveling, the home or office and outside sports.

Multifunctional blender machine, not only for making protein shakes, smoothie or juice but is for blending vegetables or fruits for babies meal.

The small size makes it portable allowing you to enjoy the goodness and freshness of fruit juice, smoothies or protein shakes wherever and whenever you need them.

Durable and easy to clean.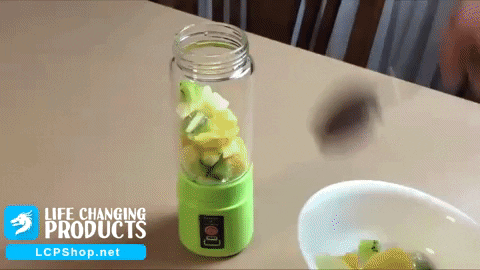 $58.99
Free Shipping Worldwide
Lifetime Warranty
USB Portable Blender Fruit Juicer
Make on-the-go delicious and healthy fruit and vegetable anytime and anywhere using the USB Portable Blender Fruit Juicer. This juicer is a USB cable rechargeable blender which allows you to make fruits and vegetable shake anywhere you are. Simply put all ingredients inside and blend in just a press of a button.
Compact Design and Rechargeable Device
This mini blender is in a compact design perfect for your personal on-the-go tumbler and juicer 2in1! You don't have to waste time anymore at home preparing your fruit shake. Now, you can just put the fruits and other ingredients inside and blend later as you go your way to your work! This way, you can enjoy a freshly made healthy fruit shake.
The rechargeable feature is very convenient because you can make smoothies and vegetable fruit drinks anywhere you are. You don't need to look anymore for power outlets to use this blender. This is also perfect while you are traveling or while you are in your car driving.
Durable Construction
Made of safe and non-toxic durable plastic material, this tumbler and blender in one will be useful for a very long time. The built-in blender inside is made of stainless steel blades which makes making shakes and juices fast and easy. You can also use this blender for making your baby's food. This blender will easily mash and pure fruits and veggies.