Educational, Family & Child, Fun Stuff, Games, Gift Ideas
Toy Microwave Set Simulation Oven
In Stock
(Ships Out Within 24 Hours)
Food turns from yellow to red after cooking
With lights and sounds
Safe non-toxic plastic
With the power switch button
Size: 25 x 16 x 13.5 cm
Power Source: AA Battery (not included)
Package List:1* Toy Microwave + 1* chicken+ 2* drumstick+ 1* tomato+ 1* ham+ 10* french fire+ 4* dishes)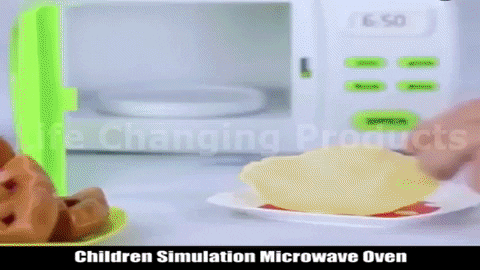 $57.50
& Free Shipping Worldwide
Toy Microwave Set Simulation Oven
Are your kids showing interest in the kitchen? Do they want to cook but still young enough for real kitchen experience? They can still feel like a little chef with the Toy Microwave Set Simulation Oven. This toy set will make your kids feel like they are really cooking something! Included foods changes color once put inside the oven!
Safe and Non-toxic
This microwave works like magic! Your kids will surely be entertained for long hours playing with this toy. Though this toy is very safe to play with, parents should always watch the kids while playing! This microwave toy looks like it does really cook. Everything is made with a safe plastic material which is non-toxic. It will not feel hot and will not burn your kids. This is really just a toy!
Fun and Educational
It has included foods shaped like a whole chicken, chicken drumsticks, steak, and even fries! Your kids can coo anything they like and the food will turn from a yellow color to a red color. For sure they will be surprised to see that the food looks like it was cooked from the microwave. It has plates included too so they can put the food there after cooking. With lights and sounds too once done!
This is a very fun toy simulation set. Your kids will learn a lot from this. They can pretend play cooking food for their siblings or imagine being a chef in a restaurant. They can really press the buttons on the microwave and they will see the food inside rotating like it is actually cooing. Even parents will have fun too exploring this toy. If your kids already have a kitchen set, this is a great addition to that! Both your boy and girl kids can play with this.
| | |
| --- | --- |
| Weight | 0.7 kg |
| Dimensions | 25 × 10 × 5 cm |
| Brand Name | Doolland |
| Material | Plastic |
| Plastic Type | ABS |
| Age Range | > 3 years old |
| Model Number | — |
| Scale | 1:25 |
| Classification | Food |
| Type | Kitchen Toys Set |
| Gender | Unisex |
| Warning | — |