Convenience, DIY, Gadgets, Kitchen, Popular, Tools
Cordless Blade and Scissor Sharpening Tool
592 Orders
In Stock
(Ships Out Within 24 Hours)
Motorized sharpener with catch tray to collect metal shavings.

Restores the razor's edge on any blade in just seconds.

Precision power sharpening when you need it. 

The built-in guide holds the blade at the perfect angle.

Professional grade, high-speed knife sharpening stones.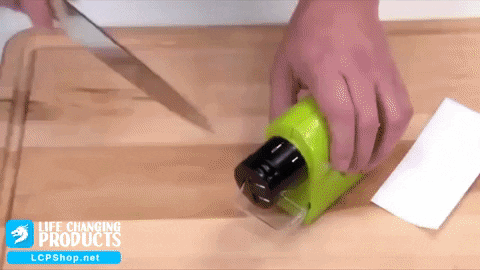 $36.98
Free Shipping Worldwide
Lifetime Warranty
Cordless Blade and Scissor Sharpening Tool
You can still make use of your old knives and scissors using the Cordless Blade and Scissor Sharpening Tool. Unlike the traditional manual sharpeners, this one will keep you safe and will prevent you from getting injuries and getting your hands hurt. This is a motorized sharpener which is very effective and easy to use. Save money by investing in this kind of high-quality and effective sharpening device than throwing your dull knives and buying new ones.
Compact and Easy to Use
Get precisely sharpened knives every time using the Motorized Sharpening Device. It has a high-speed rotating sharpening stone inside which makes sharpening fast and effective. Now you can safely and conveniently keep knives and scissors sharpened for better use in the kitchen. Works on any blade and with the catch tray, there are no shavings or shards left lying around. The knife is held in place at the perfect angle in the easy slot to ensure maximum exposure to the grinding stones. Great to keep kitchen knives sharp and ready for use.
Its compact design can be easily placed anywhere in the kitchen for an easy access when needed. You can also bring this anywhere or transfer from one place to another with its lightweight feature. Super easy to use and will give you brand new looking knives and scissors right away.