Cars, Eco Friendly, Fun Stuff, Gadgets, Gift Ideas, Outdoors and Camping, Solar Powered, Tools
Survival Tools Solar Flashlight with Window Breaker Power Bank Seatbelt Cutter
1,528 Orders
In Stock
(Ships Out Within 24 Hours)
For car emergencies but also useful for outdoors
Can be attached to metal surfaces
Convenient and compact
Survival tools all-in-one

Solar flashlight
Power Bank
Seatbelt Cutter
Window Breaker
Compass
Color: Random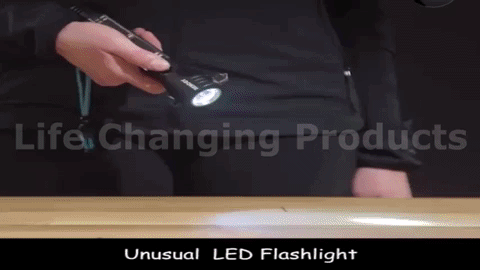 $49.58
& Free Shipping Worldwide
Survival Tools Solar Flashlight All-in-One
Save yourself during an emergency situation with this Survival Tools Solar Flashlight All-in-One. This mini flashlight is a life-saving tool you can use during crisis especially when inside your car. It is a solar powered flashlight which has many functional tools such as window breaker, power bank, seatbelt cutter and a compass.
Use as a work light while fixing your car as it has a magnet on the side enabling you to stick it to the side of your car.  It comes with a weather-resistant anodized easy to grip aluminum alloy body. Greatest idea to have one for your car and in your bag when out on an adventure or a long drive alone or not. It will serve as a great help for you if came to a needing situation. 
Functions
Flashlight

Not just for car emergencies, also great for working, camping, or hiking

. Can serve as a camping light or as an emergency warning light.

Press the switch to change working mode and long press 3s to change working LED.

Headlight (4-6 hours)

High, Medium and Flashing, Side White Lamp (4-7 hours)

Side Red Light, High, and Medium (6-7hrs)

High and Medium, Side Red Light (6-7hrs)

Window breaker and Seatbelt Cutter

Escape easily with the built-in Window breaker and Seatbelt Cutter on the flashlight. I

t will very fast and easy to cut the jammed seat belt, break the stuck window and have a safe escape in emergencies.

Power Bank

This solar flashlight has a built-in 2000 mAh rechargeable battery. It can be charged through a USB cable for 2-5 hours or solar which will take up to 30 hours. Connect your dead phone so you can easily call for your contacts and quickly ask for help.

Compass

Necessary for outdoor use for guiding you in the right direction.
| | |
| --- | --- |
| Weight | 0.51 kg |
| Dimensions | 15 × 10 × 10 cm |