Cars, Convenience, Popular
Steering Wheel Knob Booster Handle
2,928 Orders
In Stock
(Ships Out Within 24 Hours)
Helps slow down when driving and parking
Compatible with most vehicles
Made with ABS plastic and rubber
Dimensions: 6 x 7.5 x 7.3cm/2.4 x 3 x 2.9″
Weight: 0.115kg / 4.1oz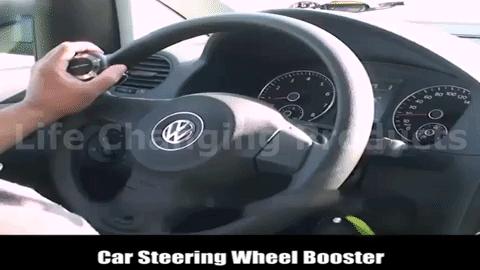 $29.90
& Free Shipping Worldwide
Steering Wheel Knob Booster Handle
A steering wheel knob is one of the keys to safety when it comes to driving. The Steering Wheel Knob Booster Handle makes it easy for specific drivers to be able to drive more safely.
Driving Safely
The statement, "Safety is our #1 priority," is never an overstatement especially when it comes to driving. There have been many accidents already due to reckless driving, DUI, texting and more. It's not surprising to expect that one can get into an accident even if you're a proper, law-abiding driver. There are others on the road, and you can easily get entangled in a crash. Tools like the Steering Wheel Knob Booster Handle makes it easy for both beginners and people who struggle with the steering wheel. It helps lessen the turning radius that one could make suddenly on the road. This knob is also known as the Brody knob that helps drivers do a one-hand driving while the other hand attends to other tasks in the car that involves safe driving. It greatly encourages to drive slowly as well when parking your car.
Reminders In Using This Knob
Owners of service vehicles like forklifts, semi-trucks, and lawnmowers make use of the knob on their steering wheels. Before you start using this knob, it's essential to ensure that the power handle is securely on the wheel. It doesn't need any adhesives of any form so never use it. It must be checked to ensure if it's fixed. The knob should not be used at high speed or more than 40km/h. Even if the steering wheel has a cover, the knob should also be installed. The knob is made of ABS and rubber and is compatible with most vehicles although not everyone is making use of it. For your safety, as well as your passengers' it's essential that you have this knob.
| | |
| --- | --- |
| Weight | 0.08 kg |
| Dimensions | 10 × 10 × 10 cm |