Kitchen
Stainless Steel Onion Dicer Grip Tool
247 Orders
In Stock
(Ships Out Within 24 Hours)
Firmly and conveniently hold your vegetables, fruit or even meat in place for slicing.

Use it while chopping vegetables, hold the onion in place to cut even sliced rings.

Easy grip handle makes for a comfortable hold. 

You can chop tomatoes, potatoes, cucumbers, eggs and, obviously, onions!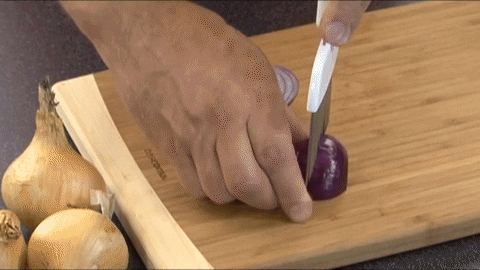 $19.99
Free Shipping Worldwide
Lifetime Warranty
Stainless Steel Onion Dicer Grip Tool
Save your hands from accidental cuts and injuries in the kitchen using the Stainless Steel Onion Dicer Grip Tool. This grip tool holds not just your onions but other vegetables in place so you can cut them safely and easily. Make perfect slices and cuts while your hands and fingers are far from the knife. You can avoid having the smell of onions in your hand too as you don't have to hold them anymore with your hands.
Stainless Steel and Durable
You can make use of this vegetable slicer for a long time with its high-quality stainless steel construction. It will not rust and will stay strong and durable even on repeated use. The handle is from a plastic material with a practical hole for safe and convenient grip.  This tool looks like a comb with many long stainless steel bars with even spaces for even cutting your veggies. Secure your knife while cutting and it will not slip as it dices in between the metal bars.
Compact Design
With the compact design and very handy feature, it can be easily stored in your kitchen drawers. Or hung to in your wall hooks where you can find it easily. Cut and slice your vegetables quick so you can also prepare and cook your meals in no time. Make perfect even cuts and onion dices every time.