Convenience, DIY, Tools
Snap Line Carpentry Marking Tool
In Stock
(Ships Out Within 24 Hours)
Makes perfectly straight lines
Very easy to use
Ink-loaded
Handy and portable
Semi-permanent, scuff and smudge-resistant

Size: 

195 mm

Available in 2 styles:

Automatic ink line 7 m (23ft)
Manual ink line 15 m (50ft)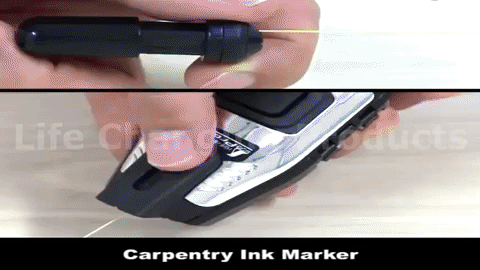 $32.69 – $36.50
& Free Shipping Worldwide
Snap Line Carpentry Marking Tool
Make lines effortlessly for cutting marks using the Snap Line Carpentry Marking Tool. This is like the chalk line marking device, only this is ink-loaded. You can use this to mark the floors, walls, woods, and any other surfaces. It makes the job a lot less hard and you can make marking easier and quicker than ever.
Simple and Easy to Use
This marking tool is available in 2 designs: the manual and the automatic. The string of the manual marker needs to be rotated manually by hand to put it back on the roller. While the automatic one is much easier as you only need to press a button to retract the string back automatically inside. Both work the same function but only differs in the way of retracting back the string inside.
Very easy to use! You just have to fill the sponge compartment part with ink by just simply making a few drops. Then when you pull the string out, the string will automatically be filled with ink which you can use after for marking woods and other surfaces. Mark both ends of the object you are about to mark and ut the string on those ends. Make a mark by pulling the string in the middle and snap it against the surface.
Convenient and Practical
Instead of using a pencil, markers, chalks, and other marking tools, this Snap-line marker is much more convenient. It saves you so much time and prevents you from making mistakes. In just a snap, you get a straight line no matter how long you want the mark to be. No more using or rulers and pencils which are very time-consuming. Invest in a tool like this and you will never have to experience anymore the hassle of doing markings in all your work projects.
| | |
| --- | --- |
| Weight | 0.3 kg |
| Dimensions | 20 × 15 × 10 cm |
| Length | Automatic 7m, Manual 15m |