Computer and Games, Consumer Electronics, Convenience, Featured Products, Gadgets, Gift Ideas, Popular
Smart TV Keyboard Touchpad
7,381 Orders
In Stock
(Ships Out Within 24 Hours)
A wireless keyboard for operating multimedia players and for gaming
Operates at a distance of 3 meters by using a USB transmitter
Compatible with Mini Pcs, Android TV box, Web TV, HD players, mobile vehicular TVs, desktops PCs, laptops and the XBox gaming console
Dimensions: (L x W x H): 146.8 x 97.5 x 19 mm
Uses 2 x AAA batteries
Package contents: 1 x Smart TV Keyboard Touchpad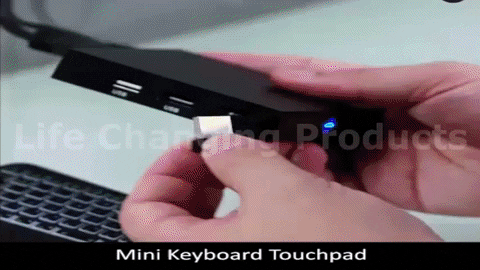 $55.42
Free Shipping Worldwide
Lifetime Warranty
Smart TV Keyboard Touchpad
The smart TV keyboard is a special kind of keyboard for multimedia usage. Personal computers are not the only devices using keyboards as of late. The Smart TV Keyboard Touchpad makes multimedia operation a more accessible and more engaging experience.
Why A Wireless Keyboard? 
Keyboards are message senders to the computer programming to make specific tasks possible. For the longest time, consoles connect to the operating system of the computer. As time went by, cables are getting more and more in the way and making organization tedious. The invention of wireless keyboards may be owed to Bluetooth signals, and other accessories like the mouse followed. Aside from that, you don't have to worry about damaging cables. You can bring it along with you anywhere. A good example is when you need to give presentations at a different location. Activating various multimedia players is also easier especially if you can designate keys for specific functions. If you have a wireless keyboard with you, you can control settings and options vat a distance.
The Magic of Wireless 
Even if you're on the couch or floating in the middle of a swimming pool, you can operate players at a distance of three meters. What makes this wireless operation possible is that the keyboard receives signals from a USB transmitter that you connect to the multimedia player. The keyboard, in turn, sends messages to the USB transmitter. This smart TV keyboard is a miniature version of the full-size QWERTY keyboard. You can also use it for gaming. This keyboard is compatible with Mini Pcs, Android TV box, Web TV, HD players, mobile vehicular TVs, desktops PCs, laptops and the XBox gaming console. The smart TV keyboard can also act as a remote control, so you don't need to stand up to change channels or select options.  It is battery-operated and makes use of two AAA batteries that you need to provide.
| | |
| --- | --- |
| Weight | 0.13 kg |
| Dimensions | 15 × 15 × 5 cm |