Convenience, DIY, Featured Products, House and Home, Popular
Sink Plunger Air Drain Blaster
In Stock
(Ships Out Within 24 Hours)
Clear clogged sink, bathtub, and shower drain by using water and air
Just fill with water, flip it over, and press down to unclog drains
Small and portable to carry around
Made of rubber
Size: 180mm x 100mm
Package contents: 1 x Sink Plunger Air Drain Blaster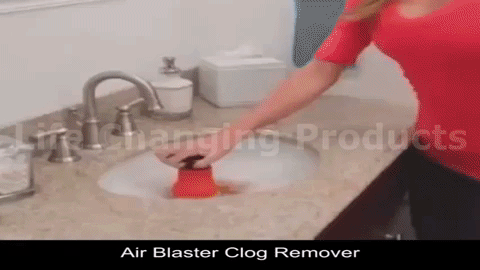 $34.66
& Free Shipping Worldwide
Sink Plunger Air Drain Blaster
Sink plunger tools unclog problematic drains when properly used. But sometimes, some plungers won't do because of flaws in design or that they're not compatible with the sink drain. The Sink Plunger Air Drain Blaster fixes all those problems.
The Effective Way To Clear Drains
If you have a sink, shower drain or bathtub drain to clear, the Sink Plunger Air Drain Blaster is just the right plunger. For one thing, it is the right size. Gone are the days when simple manual plungers that take too much effort to use are failing to unclog pipes. With the sink plunger, all you need is to fill the chamber with water, flip it over the drain and push down. The blast of water and air will powerfully make its way down the pipes and unclog it without the need to keep pumping. And because the mouth fits and tightly makes a vacuum seal around the drain, there's no escaping of air unlike with the usual plungers. It won't take you so much time and effort to do so.
Lightweight and Easy To Use
Sink Plunger Air Drain Blaster has a design similar to a retractable telescope. Rubber makes its entire body and measuring at 180mm x 100mm. The size makes it easier to carry around especially when you have multiple drains to unclog. One of the best parts of home maintenance is that you don't have to call services to do it for you. The design itself makes it easy to operate, and anyone can make use of it. You save both time and money using this product. If it used to be that home maintenance takes a lot of hard work, but with tools such as this drain blaster, you won't have to stall doing the inevitable. Get your drain blaster now and clear clogging the right way!
| | |
| --- | --- |
| Weight | 0.22 kg |
| Dimensions | 19 × 11 × 11 cm |