Convenience, Kitchen, Reusable
Silicone Baking Cups Reusable Silicone Liners (Set of 12)
299 Orders
In Stock
(Ships Out Within 24 Hours)
12 Piece Silicone Reusable Cupcake/Muffin tin liners

Save costs, save spaces and no more hassle with grease and oil.

Evenly shaped baked goods every time.
No rusting pans or Oil stained liners.

100% SAFE TO USE: BPA, Phthalate and lead-free, made of high-quality food grade silicone

Can be placed in the microwave or freezer as well.

Easy to clean and dishwasher safe. 

Lifetime guarantee.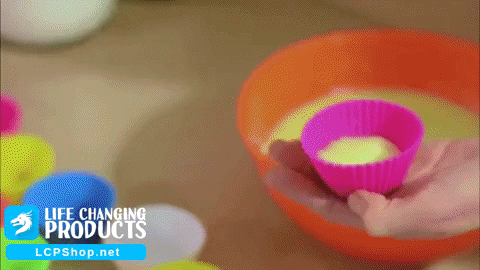 $9.99
Free Shipping Worldwide
Lifetime Warranty
Silicone Baking Cups Reusable Silicone Liners
Now you can bake cupcakes and muffins as many as you want using the Silicone Baking Cups Reusable Silicone Liners. You don't have to deal anymore with greasing pans which are hard to wash and clean. No more traditional and bulky bakewares, these cups will make baking easier! Save more money, time, and energy.
Save More Money Using Reusable Baking Cups
These silicone cups will make baking cupcakes and muffins fast and easy. You can directly put the batter into it, put in the oven, and serve directly after! Make healthier and perfectly shaped cupcakes every time. Unlike the traditional cupcake bakeware, you just peel the silicone liner around the cupcake and it is ready to be served. The cupcake will not stick on its side and will look more perfect and presentable.
Easy to Store Cupcake Liners
You can stack all the cups together to store them. It will not take so much space in your kitchen, unlike the aluminum ones. Easy to wash cups you can put inside the dishwasher. This can withstand high-temperature baking heat! You can even put it in the freezer and it will not lose its quality! Not only for your cupcakes but you can also use this mold for making jellies and more. You will be able to use this for a long time making different baked goods and other sweet treats!