Cars, Consumer Electronics, Convenience, DIY, Featured Products, Popular
Side View Mirror Auto Folding System
In Stock
(Ships Out Within 24 Hours)
Automatically fold and unfold the car's side mirror before and after use of the car
Can sense overload use to protect the motor of the system
Very easy to install without altering the car's original setting; Compatible with the original car electric and security system
Size: 65 x 45 x 25 mm
Package List:

1 x Side View Mirror Auto Folding System
1 x Manual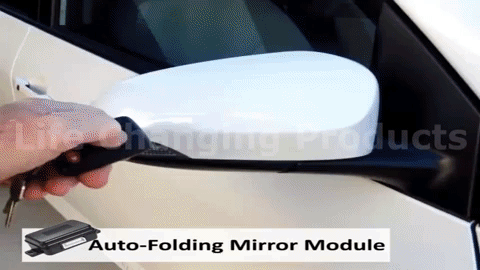 $33.90
& Free Shipping Worldwide
Side View Mirror Auto Folding System
Transform our car to a smart operating vehicle with the Side View Mirror Auto Folding System. Easy to install without needing to change any car lines and setting. It is fit for the original car electric and security system. Very convenient to use which saves you time and effort while using your car.
How It Works
You do not have to remember anymore every day the need to close your side view mirror before leaving. Installing this Automatic Folding System will make your everyday life effortless and much better. This system will automatically open the Side View Mirrors just as soon as you begin your car. No need to ignite the car just so the side mirrors can start. No need to get out of the car anymore if you forgot to unfold the side mirrors while you are already inside the vehicle. Also, this Auto Folding System will automatically close or fold your car's side mirrors too right after you turn off the car and shut the door.
Convenient for Car Owners
It is system is very comfortable as you can avoid your car from damages and collisions. You will not be surprised anymore for a damaged side mirror just because you forgot to fold it before leaving your vehicle. With this system, you can have peace of mind that the side mirrors of your car are safe.
Smart Operation
Aside from that this system automatically folds and unfold the side mirrors, it also has overload protection. If the car's door is regularly being opened and closed, the system will sense it and will stop automatically folding and unfolding the mirror. It is done smartly to protect the motor of the system. And if the actuator unlocks wire is not connected, automatically the Side View Mirror Auto Folding System will convert to smart mode operation.
| | |
| --- | --- |
| Weight | 0.2 kg |
| Dimensions | 15 × 10 × 3 cm |