Convenience, Eco Friendly, House and Home, Popular, Reusable
Self-Wringing Double Sided Lazy Mop
1,188 Orders
In Stock
(Ships Out Within 24 Hours)
Hands free easy to use
No squeezing
Double-sided cleaning head
Double sided for maximum performance
360 degree rotating mop head
Stand upright storage
Washable, reusable microfiber pads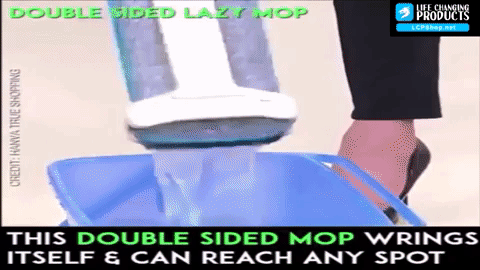 $75.99
Free Shipping Worldwide
Lifetime Warranty
Hands Free Hygienic Cleaning
Designed for hands free use, the automatic squeezing device means your hands never touch the dirty water. The mop's cleaning pads are designed for double-sided use. The cleaning head, which lets you flip to use the clean side or simply to use as a wet and dry cleaning accessory.
Reach Hard To Clean Corners
This mop with a 360 degree rotating mop head makes cleaning corners easy. Now you can clean without hassle and no strain on your back. The cleaning pads are washable. This means you save money with the reusable microfiber pads, simply pop them into the washer and they are ready to use.