Educational, Fun Stuff, Outdoors and Camping, Popular
World Travel Scratch Map (Deluxe Edition)
476 Orders
In Stock
(Ships Out Within 24 Hours)
Great gift for a travel enthusiast.
Even great for the classroom or to encourage your child's imagination.
All visited countries on the world map shine colored after being scratched off.

Travel Map can be beautifully gift wrapped, ready to be given as a lovely present.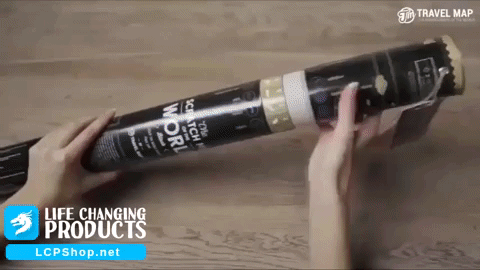 $39.98
Free Shipping Worldwide
Lifetime Warranty
World Travel Scratch Map
You will be excited to travel more with the World Travel Scratch Map. This map encourages people to travel more as they get to scratch the country or place they have been to. You can use a coin or any not so sharp object to scratch it and it will show a beautiful color inside. Perfect gift for anyone you know who loves to travel or can be useful too for your kids for learning places of the world.
Interesting Home Decoration
You can display this in your bedroom or living room or anywhere you want. No doubt that this map will be a conversation starter when you have guests at home. This map looks so unique and stylish, it will fit as a decoration in any place in your home. You can simply pin it on your wall or have it frame for a more fashionable look. Instead of using safety pins for marking the places you already have been to, this one is different as it enables you to scratch it off. The surface of it is smooth and the gold-coated scratchy material is shiny. Simply scratch the country you visited and then wipe the dirt after.
Educational Display Tool
This can also be used as an educational tool for school and for your kids. Teach them to read something interesting one country at a time, and when they are done, allow them to scratch the country they already read about. This will encourage them more to read because scratching off on the map after is a fun thing to do!