Convenience, Kitchen
Salad Shaker Salad Cup Container
469 Orders
In Stock
(Ships Out Within 24 Hours)
Handy on-the-go Salad cup Set includes cup, lid, Reusable fork and mini container (Great for Dressing or spices).

Fork and mini dressing container snap onto the lid, easy to use while on the move. 

Dishwasher and Microwave Safe.

Can Be used to store many more than just a fresh, crispy salad. 

Measures 7 inch Tall and up to 4 inch Across fits most lunch bags or backpacks.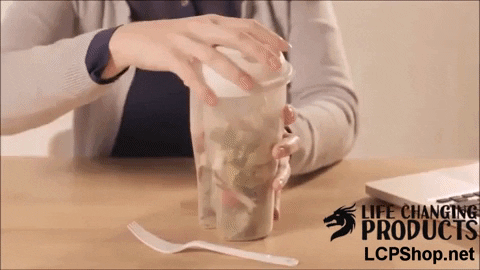 $37.99
& Free Shipping Worldwide
Salad Shaker Salad Cup Container
Enjoy a healthy and fresh salad on-the-go every day with this Salad Shaker! In just one cap, you already have a salad container, salad dressing cup, and a fork! All in just one cup! No more bringing of many containers with you just to enjoy your brought salad from home.
All-in-One Salad Container
This cup is your all-in-one salad container. You have a big spacious cup for holding your salad, a little cup on the top for the dressing, and a detachable fork on the side of the cup! You will never forget anything you need if ever you are in a hurry because all you need for a delicious lunch or snack is this super cool salad container! In just one grab and everything is already with you. Just don't fill the cup too much so you can still have a room for shaking when you put the dressing. Not only for your salad but can be used for your fresh fruits and vegetable slices. Make it as a drinking cup and its good too!
Handy and Easy to Wash
You can easily put this in your bag as it is compact enough to be brought anywhere. Everything you need is already in this cup so you don't need any more additional containers. Perfect if you are always rushing to work, this will save you time preparing and packing.
Be confident that your salad of food is tightly secured inside and will not leak. It is very easy to wash too and can be put in your dishwasher. Microwave-safe if ever your food needs a little heating.
| | |
| --- | --- |
| Color | Red, Blue, Pink, Yellow |