Convenience, DIY, Gardening
Rose Thorn Stripper Garden Tool
In Stock
(Ships Out Within 24 Hours)
Removes thorns and leaves easily
For safe handling of roses
Easy to use
Durable and portable
DIY tool for gardeners and florists
Material: metal
Size: 14.3 x 2.5 cm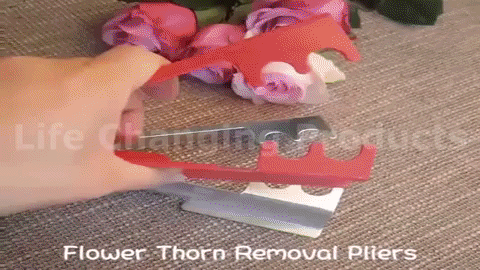 $27.02
& Free Shipping Worldwide
Rose Thorn Stripper Garden Tool
Do you have your own garden of roses? If you do, you must have this Rose Thorn Stripper Garden Tool. This is the most efficient thorn and leaf removing tool from your beautiful roses! Very easy to use which keeps your hands safe from accidental pricks. It effectively removes the thorns on the stem!
Very Easy to Use
This tool looks like a usual clamp with 2 holes at the tip when closed. The holes are where you will place the stem in between. This stripper is very easy to use.
Hold the stem of the rose on the upper part near the flower
Hold the clamp with your other hand
Place the stem in between the holes and clip the clamp together. Make sure that the stem is tightly secured by the clamp but not so tight that it will cut the stem
Push the clamp from top to bottom. Notice how the stripper efficiently removes the thorns as well as the leaf surrounding the stem
Effectively Removes Thorns
If you love picking up fresh roses from your garden, you need a stripping tool like this so you can remove the thorns and leaves on the stem. You can't just pick the flowers and put it directly in a vase for decoration or give it right away to people. You must always first remove the thorns for safe handling. This stripper made of metal will leave the stem as smooth as possible making sure no thorn is left.
| | |
| --- | --- |
| Weight | 0.11 kg |
| Dimensions | 15 × 15 × 10 cm |