Consumer Electronics, Family & Child, Featured Products, Games, Gift Ideas, Popular
Retro Game Console 8-Bit Pocket Player
5,388 Orders
In Stock
(Ships Out Within 24 Hours)
Handheld game console with 168 games
Has the following controls: arrow keys, select/start keys/ function keys, ON/OFF button, volume scroll button.
Screen size: 3 inches; console size: 11:58 cm x 7.83 cm
Connects to the TV
Has 850 mAh battery for 6 hours of play time
Package contents: Game console/cable/charger/Li-battery/manual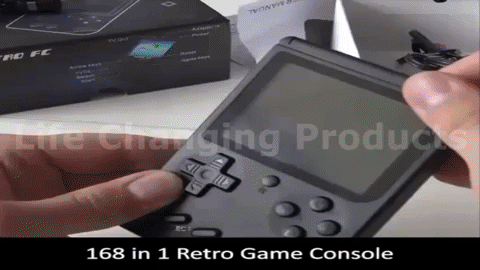 $81.96
Free Shipping Worldwide
Lifetime Warranty
Retro Game Console 8-Bit Pocket Player
Retro game console devices are making are making a comeback despite the high-end and high-tech games we have today. The charm of the old games never ceases. The Retro Game Console 8-Bit Pocket Player will have you strolling back memory lane and more.
Play The Games You Loved
There's nothing like a cool pocket video console to spend some time with. But after all the most anticipated games are being released left and right, gamers still enjoy playing the classics. And why not? Some of these games might be what made childhood awesome. This game console may remind one of Nintendo's Game Boy. Indeed, the handheld console made a significant impact on the youths of the first millennials who spent half their time outside looking for bugs and the other showing off video game skills to their friends. The Retro Game Console 8-Bit Pocket Player has 168 programmed games that you can choose from. It's a great way to introduce the type of games you played as a kid to your little one. Relieving your memories
with such games will have you paying for hours.
The Console
As mentioned, the console is a familiar device to the classic gamers. It has the 3-inch LCD screen, Arrow keys, Select/Start Keys, function keys and the speaker. Below the console are the ON/OFF button, DC 5V port, and the TV port. At the bottom left side is the scroll selector for minimizing and maximizing the volume. It measures at 11.58 cm x 7.83 cm. It has an 850 mAh battery that allows 6 hours of game time. There are three choices of colors to choose from: black, white, and yellow. Because it has a port for TV, you can even connect it to the TV so that others can watch or because you need a bigger screen.
| | |
| --- | --- |
| Weight | 0.35 kg |
| Dimensions | 10 × 10 × 10 cm |