Cars, Convenience
Retractable Car Sun Shade
1,702 Orders
In Stock
(Ships Out Within 24 Hours)
Material: Aluminum foil and Plastic
Size: 460x1400x12mm/18×55.12×0.47 inches
Package includes: 1 Piece Car Sun Shade, 3 Pieces Suction Cups, 1 Piece Clip accessories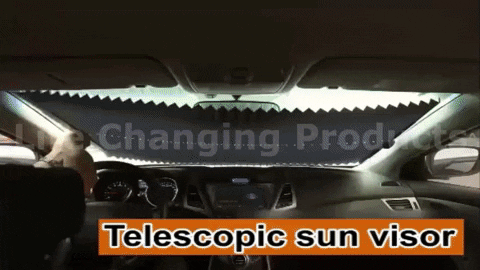 $56.10
Free Shipping Worldwide
Lifetime Warranty
Retractable Car Sun Shade
Give your car the care that it needs. The Retractable Car Sun Shade will protect your car from UV rays brought about by the harsh sunlight. Furthermore, it also works as an insulation curtain to minimize the heat coming in your car. This product is very convenient since it will give you and your car the pleasure it deserves.
The Retractable Car Sun Shade has a unique design. It allows ease in the installation using the suction cups that come with this product. It has a durable construction that ensures that Retractable Car Sun Shade will do its job very well. This is a great product if you want to keep your car cool in the summer. The design is made to prevent your car interior from heating up. It blocks the sun's UV rays from hitting your car directly. The retractable design allows the user to save time. Removing the Retractable Car Sun Shade will be very fast and easy. You can just fold up the sun shade when you are ready to drive. Storage is very easy since you can place it anywhere in your vehicle.
This amazing product is made from high-quality aluminium and plastic. It measures 460 x 1400 x 12mm/18 x 55.12 x 0.47 inches. Each package includes 1 piece Retractable Car Sun Shade, 3 Pieces Suction Cups, and 1 Piece Clip accessories. Probably, this product will be a great addition to your car's accessories.
| | |
| --- | --- |
| Weight | 0.27 kg |
| Dimensions | 46 × 7 × 4 cm |