Consumer Electronics, Family & Child, Fun Stuff, Games, Gift Ideas
Remote Control Truck Construction Toys
In Stock
(Ships Out Within 24 Hours)
Realistic model of an excavator remote control truck where every part and joint can freely move
Easy to control with 15 different key functions
Works even up to 100 meters away with an anti-interference feature
Materials: Plastic, metal / Power: 7.2V 400mAh nickel-chromium battery and AA battery

Dimensions: 

56.50 x 19.00 x 35.50 cm / Racing Time: About 30 mins / Charging Time: 120 mins

Package List:

1 x Remote Control Truck (Battery included)

1 x Transmitter – needs 2 x 1.5V AA battery (not included)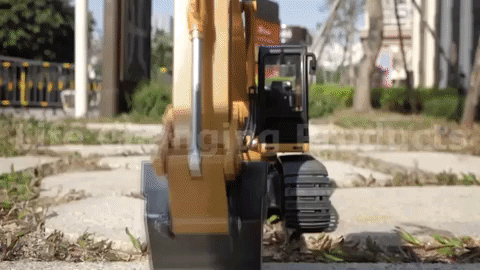 $197.98
& Free Shipping Worldwide
Remote Control Truck Construction Toys
Not only for kids, but the Remote Control Truck Construction Toy can be for adults too. An entertaining toy which works like a real one using the remote control. Experience being the driver or operator of an excavator truck even by just through an RC Toy Truck. Very easy to control which anyone can have fun.
Realistic Model
This truck does not only moves in a simple forward and backward direction. You will be surprised as this toy moves as a real excavator does. See how every joint of this truck freely moves and be entirely controlled by the remote. The cab can make a 680-degree rotation and can go up and down through the simulation of the hydraulic cylinder.
Easy to Control
There are 15 different keys which you can press to take advantage of this truck's full function. It may look overwhelming at first, but as you get used to it, it gets easier and better. Once you have mastered what each key does, you will have no trouble operating this Remote Control Truck Construction Toy. The buttons are straightforward to press and commands the toy very smoothly.
The remote control uses a 2.4GHz signals which have an anti-interference feature. This feature allows you to use and control the truck even from 100 meters away. Perfect for indoor and outdoor play time. You can make this truck go around the backyard or in the park without any difficulty. Set your essential functions or use the programming button to carry out a series of movements.
Gift Idea for All Ages
Both kids and adults can have this as a gift. A perfect idea where both parents and children can bond over a toy. All ages can be able to have fun using this Remote Control Truck as if they are really in a construction site.
| | |
| --- | --- |
| Weight | 2.8 kg |
| Dimensions | 57 × 19 × 36 cm |