Family & Child, Featured Products, Fun Stuff, Games, Gift Ideas, Popular
Remote Control Robot Battle Fighter
2,858 Orders
In Stock
(Ships Out Within 24 Hours)
A fighting robot that performs punching moves
Punch another fighting robot 5 times and it will shut off. You win!
The remote turns off after 15 minutes of inactivity, thus saving power.
The robot is rechargeable and the remote control needs 4*7 batteries
Dimensions: 6.5 x 7 x 9.5 cm; Color: black, white
Charging time: 25 minutes
Product Accessories: 1XRobot  1XRemote Control  1XUSB Cable 1XManual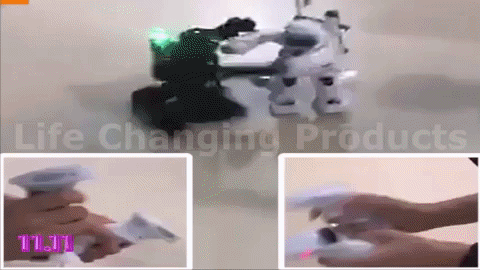 $73.30
Free Shipping Worldwide
Lifetime Warranty
Remote Control Robot Battle Fighter
Remote control robot toys never go out of style. Generation after generation, robots are fascinating children especially ones that they can control remotely. The Remote Control Robot Battle Fighter makes a perfect gift for children for birthdays and the holidays.
Cool Fighting Robots 
These are not just your ordinary robots. This remote control robot can do so many things other than break out lights and sounds. If you have two of this robot, your kids and their friends will have a field day trying to take down each other's robots. The robot has left and right punching actions that can knock down another object in sight in rapid successions. Once a robot has been hit five times, it will automatically stop. Likewise, the remote control will shut off after 15 minutes of inactivity. The remote control robot is rechargeable for twenty-five minutes through a USB cable with. The battery capacity is a 3.7V/60mAH. The size of the robot is at 6.5 x 7 x 9.5 cm. It has a discharging time of 25 minutes. It's also capable of emitting vocal sounds with flashing lights and music to accompany the fight.
Let Children Bond Over It
You have the choice of a white, and a black robot and one color of each is good for an imaginary fight. The remote control is battery-operated and needs 4*7 batteries. Kids will be spending hours playing with fighting robots as it will teach them how to handle competition and losing as well. The importance of play is that it's also coupled with life lessons like sharing their toys and forming a camaraderie with other children. Robot fighting will also teach them to fight their own battles while dealing with strategizing and problem-solving skills. You and your child can get together over this cool robot. Play under your supervision will also ensure that they play nice and don't start a fight among themselves.
| | |
| --- | --- |
| Weight | 0.35 kg |
| Dimensions | 27 × 17 × 10 cm |