Convenience, Kitchen
Meat Tenderizer Kitchen Tool Pounder
390 Orders
In Stock
(Ships Out Within 24 Hours)
Save time and effort with the Professional Meat Tenderizer in your own kitchen

Stainless-steel prongs break down tough meat fibers leaving you with tender, succulent meat everytime

Also useful for piercing meats before marinating

Heavy-duty spring-loaded mechanism controls action precisely and evenly tenderizers your meat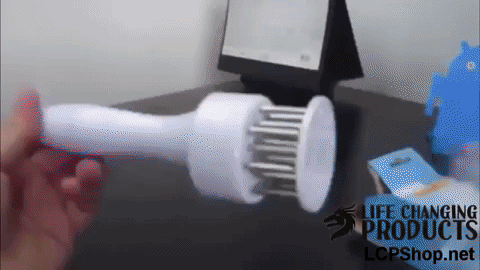 $21.98
Free Shipping Worldwide
Lifetime Warranty
Meat Tenderizer Kitchen Tool Pounder
Achieve a tender and juicy meat every time with the use of this Meat Tenderizer. Give a better texture and flavor to your fish, pork, meat, etc. with just a few presses from this Meat Pounder. Make meats absorb the flavorings easier and faster resulting in a more delicious taste.
Enjoy a more tender meat for every meal you cook. This tool will easily and effectively even the meat's texture and softness.
Handy and Durable
This Tenderizer only needs one hand to operate. You only push this tool to the meat and the blades will sink in. It has a spring design which automatically makes the blades go up easily for easier use. It is comfortable in hands and will not slip as you use it. Pounding the meat will make it tender and will absorb marinade fast.
Easy to Clean and to Store
Tenderizer's handle made of a strong plastic material will not break even after repeated strong uses. It is easy to grip and is very easy on hands when used. While the blades made of high-quality stainless steel material will remain sharp and rust-free.
Very easy to wash, just always make sure no meat or dirt was left behind after cleaning and rinsing with water. This Meat Kitchen Tenderizer is very easy to store too. It can easily fit in your kitchen drawers and has a practical hole on the handle so you can hang them too for easier acces.
| | |
| --- | --- |
| Color | Red, Blue, Pink, Yellow |