Featured Products, Fun Stuff, Gadgets, Gift Ideas, House and Home
Pressure-Sensitive Alarm Clock Mat
In Stock
(Ships Out Within 24 Hours)
The kind of alarm which will really make you get up on your feet
Needs to be stepped on to turn off the alarm
You can choose your own alarm music!
Minimalistic design matches to any room style
Material: cotton fabric and memory foam
Speaker: Fidelity full range speaker
Power: Three No.7 Batteries (not included)
Size: 40cm x 38cm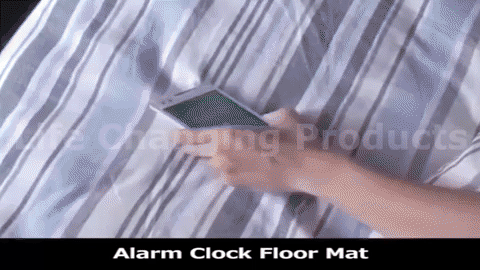 $99.00
& Free Shipping Worldwide
Pressure-Sensitive Alarm Clock Mat
No doubt that the Pressure-Sensitive Alarm Clock Mat will make you get up in the morning real quick! No more excuses for being late, this alarm clock will make you stand on your feet as soon as it makes a sound. It has a touch sensor which needs pressure to be turned off, meaning you need to stand on it. Yes, wake up! Great for all who are not a morning person. This will help you get used to getting up as soon as the alarm goes on!
Stylish and Durable Construction
This alarm clock looks like a simple mat at a glance. It can easily go in any kind of room decoration with its modern look. With a minimalistic design, you can totally put match this to any style. Made of memory foam mat, your feet will feel easy and comfortable ay you lay them on top. This alarm clock mat can also double as a night light in your room. It has a bright LED display which can give enough brightness in your room as you sleep.
How It Works
The best thing about this alarm clock is you can customize the sound of the alarm! You can choose whatever kind of music or song you want. Of course, better if you choose something lively and which can really wake you up without ruining your mood. Simply plug it on the computer using the USB cord and you can already customize the music alarm.
You will really be awakened with this alarm clock because you needed to get up and step on the mat to make the music stop! It has a touch sensor which easily turns off as soon as your feet touches the surface. But don't worry, it is super comfortable to step on with its memory foam construction.
| | |
| --- | --- |
| Weight | 0.65 kg |
| Dimensions | 40 × 20 × 10 cm |