Convenience, For Her, For Him, Health And Beauty, Home Improvement, Popular, Reusable
Automatic Toothpaste Dispenser with Toothbrush Holder
727 Orders
In Stock
(Ships Out Within 24 Hours)
Hands-free toothpaste dispenser gives the perfect amount of toothpaste

Just insert your favorite toothpaste and install on any surface

Includes toothbrush that holds up to 5 toothbrushes

Fits any size tube and dispenses to the last drop

This automatic toothpaste dispenser is perfect for the whole family and requires no batteries or electronics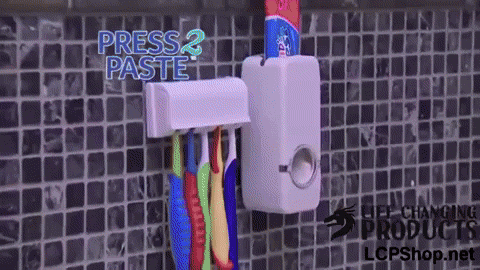 $42.59
Free Shipping Worldwide
Lifetime Warranty
Automatic Toothpaste Dispenser with Toothbrush Holder
Does it annoy you when someone always leaves the toothpaste with its cap opened? Solve the problem with this Automatic Toothpaste Dispenser. The easiest way of using the whole tube with no mess. Perfect for the whole family as it comes with a toothbrush holder too. It will only dispense the right amount for brushing your teeth. Saves more money!
Clean, Safe and More Hygienic
No more leaving the tube anywhere in the bathroom. No more losing the cap or leaving the tube open which can be prone to germs and insects. With this automatic dispenser, your toothpaste is in a safe and clean place. Only dispenses the right amount for each use. Most of the time we just press the tube we tend to put more than what we need. Now you can save more money because you can consume your toothpaste for a longer time!
Comes with a toothbrush holder which can hold 5 toothbrushes. Super perfect for the whole family! The holder has a cover which keeps it clean and hygienic.
Easy to Install
All you have to do is stick it to a flat surface wall and that's it. It is up to you how high or how low you want it to be but make sure that your child can easily reach for it too.
No wires and no batteries. This automatic dispenser releases a small right amount of toothpaste by just simply pushing your toothbrush inside the dispenser. No more pressing the tube with your other hand. Super fast, easy, and very convenient!
| | |
| --- | --- |
| Color | Black, White |
| Size | S, M, L, XL, XXL |