Educational, Fun Stuff, Gadgets, Gift Ideas
Portable Digital Silicon Drum Pads
In Stock
(Ships Out Within 24 Hours)
The best product for music enthusiasts with limited space
Perfect, professional sound that comes out from high-quality dual speakers
Easy to carry with its convenient roll-up design
Connects via USB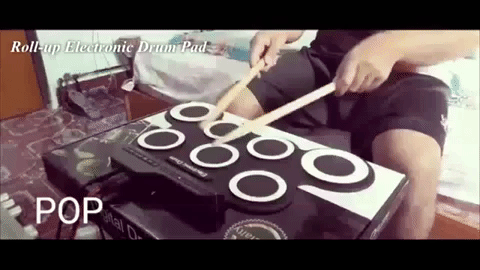 $129.99
& Free Shipping Worldwide
Portable Digital Silicon Drum Pads
Make music in your little space. The Portable Digital Silicon Drum Pads can make it all possible. This is a compact-sized electronic drum set. It easily rolls up that you can carry it anywhere. Storage will not be a problem as well. This is the perfect product if you are just starting to learn to play the drums. You can also use it if you have a special occasion filled with music and entertainment. Kids can also use it for practice. It is better to start young if they are already interested in music.
The Portable Digital Silicon Drum Pads is made from silicon and plastic. You can easily fold it up and keep it in the storage if not in use. This is also easy to carry. It is so portable you can bring it to your friend's next gathering and show off your moves. Moves are not just for dancing, you know.
This product has a pedal controller included. The pedal controller is used to bring out the real hi-hat effect to make it sound like a real drum set. The hi-hat sound can also be alternated with the snare to make it easy for the potential drummer. You can also train foot coordination by using the bass drums' pedal controller. Since you are still learning, there is a built-in metronome for a good sense of rhythm. The product includes dual speakers for high-quality listening and earphone jack if you do not want to disturb anyone.
| | |
| --- | --- |
| Weight | 1.1 kg |
| Dimensions | 48 × 33 × 5 cm |