House and Home, Pets, Popular, Reusable
Pet Hair Remover Grooming Brush
1,568 Orders
In Stock
(Ships Out Within 24 Hours)
Effective pet hair remover brush you can use on clothes, furniture, car seats, etc.
Made of durable plastic material
Lightweight and easy to use
Has compartment for disposing of collected hair
Great tool for all pet owners
Size: 32.5 x 7.5 x 4.5 cm
Weight: 260 grams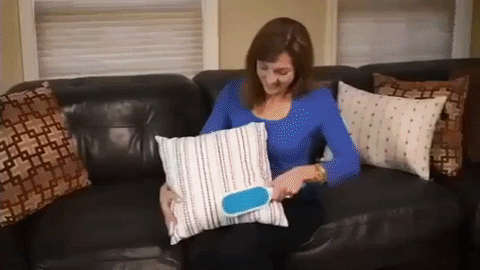 $44.90
Free Shipping Worldwide
Lifetime Warranty
Pet Hair Remover Grooming Brush
Keep your home clean and free from pet hair with the Pet Hair Remover Grooming Brush. This can be used directly for brushing your pet or can be used on surfaces like clothes, bed, and furniture for removing loose hair from your pets. It has a compartment too where you can dispose easily all the loose pet hair you collected.
Easy and Convenient to Use
Removing pet hair is really a hard job. You tried using sticky tapes or vacuuming, but everything needs so much effort. But with this hair remover brush, all you have to do is wipe it where you need it! Be amazed as to how it easily gets all the loose hair around your home. It has a compartment where you can slide it in and out so it can dispose of all the hair and store it at the bottom for easy disposal.
You can use it for removing loose hair from your clothes or on furniture surfaces. You can also use it on top of your beds, pillows, and even in your car seats. Very easy to use, no batteries needed! Very handy and convenient for all pet owners.
Durable and Compact Design
The brush is flat with both sides has a specially designed surface made for effectively removing pet hair from surfaces. The pet hair attaches to the brush as you wipe it from the surface area. Its compact design is very easy to use and to store which makes it convenient to have one in your home or in your car. It is lightweight and has a comfortable grip for easy handling.
| | |
| --- | --- |
| Weight | 0.08 kg |
| Dimensions | 20 × 10 × 5 cm |