Kitchen
Silicone Non-Stick Pancake Mold Easy Flip
439 Orders
In Stock
(Ships Out Within 24 Hours)
The Fast, Easy & Fun way to make perfect pancakes perfectly every time.

With the flip grips, you can safely and easily flip the pancakes.

Can be used for eggs, fritters and a lot more.

Dishwasher and microwave safe, and can even be used in the oven safely up to 450°.

Made from non-stick silicone which is a healthy alternative to cooking with oils and butter. 

Fits any 10″ size pan and up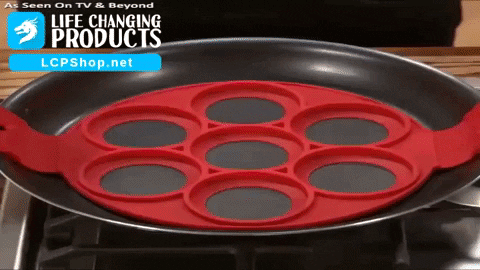 $32.99
Free Shipping Worldwide
Lifetime Warranty
Silicone Non-Stick Pancake Mold Easy Flip
Make perfect pancakes every time using this Silicone Non-Stick Pancake Mold. Prepare breakfast and all-time snack fast and easy which allows you to make 7 perfect same sizes of pancakes all at once! Keep your kitchen clean and as this silicone mold flips your pancakes mess-free. Make your pancakes more presentable with its uniform shape and sizes.
Easy to Use and Time-Saving
You can make 7 mini cupcakes all with the same sizes and same thickness in one cooking. This pancake mold allows you to cook faster and easier as you only need to pour the batter on each hole and wait for the side on the pan to cook before flipping. It has a convenient holder on both sides which makes flipping safe and easy. Its length is longer than the size of the pan so it is not hot when touched. The pancakes will not fall off or slip while flipping. You don't have to use a spatula anymore to flip them.
Durable Silicone Mold and Safe Materials are Used
Made of high-quality silicone material, durable, and is very safe to use for cooking. You will be able to may pancake using this for a very long time with its durable construction. Its heat-resistant feature will not worry you about it dissolving in heat. It can withstand high temperatures and will stay in its original shape and form.