DIY, Kitchen, Reuseable
Pasta Maker Handheld Mold Press
In Stock
(Ships Out Within 24 Hours)
A handheld kitchen device for creating pasta, as a juice press, and for making natural baby food
Has five molds for creating pasta in different forms
Material: Stainless Steel
Dimensions (L x W): Approx. 18.5 x 14cm / 7.3 x 5.5inch
Handle Length: Approx. 9cm / 3.5inch
Package Included:
1 x Pasta Maker Handheld Mold Press
5 x Mold Heads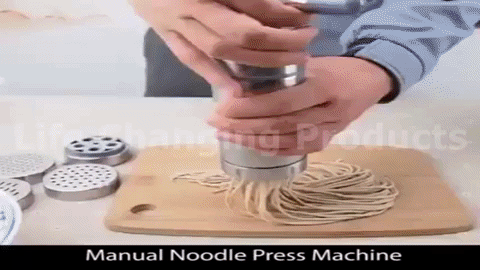 $51.14
& Free Shipping Worldwide
Pasta Maker Handheld Mold Press
Pasta maker devices are often hand-crank machines where you run through dough mix to form different shapes. The Pasta Maker Handheld Mold Press is a manual pasta press that you can use for other purposes as well.
Make Your Own Special Pasta
Pasta making has been around since ancient China and has been adapted by specific countries. Since then, pasta has become one of the many foods people enjoy because they are easy to makes and are very satisfying. In fact, people have come up with different pasta shapes. And if that wasn't enough, recipes for pasta have been coming up such as adding vegetables in flour. You can accomplish all and use this pasta press to create your own pasta. It makes use of five different molds where you push the dough through to create different shapes and thickness of noodles. Aside from that, you can also use it for juicing your favorite citrus fruits. That's not all, you can make natural baby food with boiled veggies as well or make hash brows with boiled potatoes and stews with this press device.
Pasta Press Features
This pasta press is made with stainless steel that's food-grade and anti-corrosion. You can use it on various foods, and the acidity won't affect it. Making pasta is now quicker, and with this set, you now have different options to create them. The five molds are food-grade as well and won't bring any taste or smell to the food they come in contact with. It's a kitchen tool with various applications waiting to be discovered by you. It is easily cleaned by warm water and soap and is dishwasher friendly. Whether for home use or for commercial purposes, it is one of the best kitchen aids you'll have when it comes to making meals and drinks.
| | |
| --- | --- |
| Weight | 0.66 kg |
| Dimensions | 19 × 19 × 6 cm |