DIY, Featured Products, House and Home, Tools
Paint Spray Gun Airbrush Pen
2,984 Orders
In Stock
(Ships Out Within 24 Hours)
A spray paint pen that's easy to use
A versatile tool for makeup application, body painting, acrylic painting, cake painting, nail art and more.
Size: 6.10 inches
Nozzle Diameter: 0.2mm
Fluid capacity: 9cc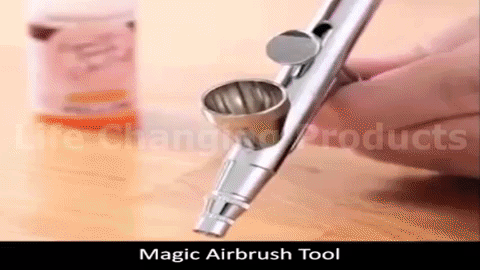 ה
$49.99
Free Shipping Worldwide
Lifetime Warranty
Paint Spray Gun Airbrush Pen
Paint spray gun tools are great alternatives to brushes when you're aiming for smooth coverage. It's a versatile tool that can bring your creativity off the charts. For the best spray gun, here's the Paint Spray Gun Airbrush Pen.
Coverage You Can't Ignore
The Paint Spray Gun Airbrush Pen is equipment for paint spraying. It provides even coverage on the surface of the object, therefore, making it look natural. The light application allows layers upon layers of medium without the cakey appearance. Its versatility reaches out to different forms such as cosmetology, body art, nail art, cake decoration, and also crafting. Use the paint spray gun to apply liquid foundation evenly on your face. Make body painting less taxing by using an appropriate tool that will allow you to cover areas in lesser time. Paint nails the faster way or design to your heart's content using this airbrush pen. Paint on white cake fondant soft or wild colors according to your taste. Make it your canvas and let your creativity shine utilizing this Paint Spray Gun Airbrush Pen.
How To Use The Spray
• Attach to a compressor tank and calibrate it first before filling with paint.
• Thin out color of it's the medium. Try food paint or coloring on cakes, the foundation on cosmetology, and so on.
• Hold the spray gun firmly and press the trigger.
• Allow a stream of air may first then observe the pattern. The pattern of paint coming out down to a surface will depend on the distance of the spray to the surface.
• Take off the needle cover if a fine line is desired.
The spray gun has a trigger lock safety feature that sets how much volume of air and paint is released. Using for its dual-action control is easy.
| | |
| --- | --- |
| Weight | 0.25 kg |
| Dimensions | 21 × 12 × 12 cm |