Convenience, Kitchen, Reuseable
Potato Express Microwave Potato Bag Cooker
In Stock
(Ships Out Within 24 Hours)
Eco-Friendly Microwave Cooker Bag.
Fabric cooking bag for Potato, Corns, Sweet Potato and more.
Washable and reusable.
Holds up to 4 large potatoes.
25x21cm, Polyester Fabric, Fiber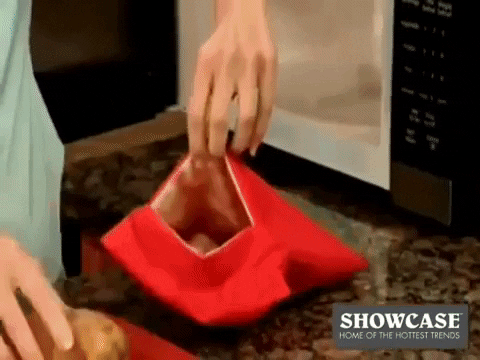 $29.99
& Free Shipping Worldwide
Potato Express Microwave Potato Bag Cooker 
It will only take you few minutes to have baked potatoes using the Potato Express Microwave Potato Bag Cooker. Cook potatoes even corn just half the time than it was before! You get to save more time and effort, and you get to enjoy your food faster than ever! The easiest way to prepare and cook healthy potatoes!
How It Works
This bag creates a steam inside it while in the microwave which perfectly cooks the potatoes in just 4 minutes!
Simply wash your potatoes before using them. You can put at least 4 medium-sized potatoes
Make sure the potatoes are damp before heating them inside the bag.
Position the bag flap side down and your microwave should have a turntable so the potatoes can rotate during cooking.
Close the flap when potatoes are already inside and you can start cooking them in the microwave.
Carefully remove the bag from the microwave.
Take the potatoes out and it is done! You can eat them right away or slice them open and add cream cheese or whatever you prefer. But plain potatoes cooked from this bag will give you healthy and yummy potatoes already!
Durable and Safe to Use
Made of top quality heat-resistant fabric, this potato bag will be useful for a very long time. It is reusable and washable. This bag will be your buddy for making a quick snack when you don't have the time to prepare a complete meal and cook.