Fun Stuff, Gift Ideas, Kitchen, Reuseable
Magic Mug Heat Sensitive Color Changing Cup
In Stock
(Ships Out Within 24 Hours)
This exciting Magic Coffee Mug is guaranteed to make you smile. 

In order to activate cup, simply add hot liquid. Change starts instantaneously. As it cools, you see the mug return to normal.

Watch as your mug goes from dark and sleepy to bright, awake and happy!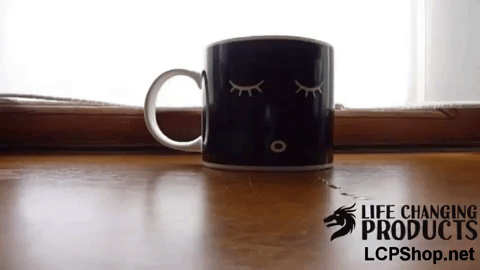 $49.50
& Free Shipping Worldwide
Magic Mug Color-Changing Cup
You can enjoy your coffee more using this Magic Mug Heat Sensitive Color Changing Cup. The original print is a black mug with a sleeping face printed in front. But as soon as you pour the hot water inside the mug, the mug will turn into white and will now have a smiling face printed on it!
Heat Sensitive Mug
Every time you pour the hot water for your hot chocolate, coffee, or tea, you can also enjoy how this mug will change in color and look. This is the perfect coffee mug for everyday use because it is just like all of us every morning. Sleepy at first but after a hot cup of coffee, we feel bright and awake already.
You can also be able to tell that your coffee is still hot without drinking it. It stays white as long as its hot and it goes back to black when the hotness fade. You can watch as it slowly became white from black. this is a perfect gift for all your officemates and for all the morning kind of person you know!
Simple Stylish Design
When you give this as a gift, it just looks plain and simple. Little did they know that as soon as they use it for their coffee or tea, that is when the magic will begin. This mug will brighten anyone's day!