Convenience, DIY, Fun Stuff, Gift Ideas, Popular
Magic Embroidery Pen DIY Craft
7,450 Orders
In Stock
(Ships Out Within 24 Hours)
With different needles sizes
Easy to hold and use
Portable size
Flawless finish product
For repairing clothes or for hobby use
Durable quality
Size: 13 x 2 cm
Package List:

1 x Embroidery Pen
4 x Needles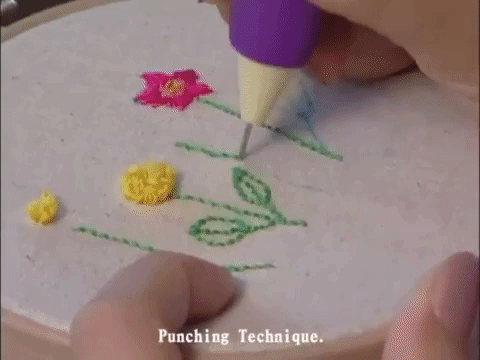 $29.99
Free Shipping Worldwide
Lifetime Warranty
Magic Embroidery Pen DIY Craft
Got an interest with embroidery? Or simply looking for a new hobby or past time? The Magic Embroidery Pen will make crafting more fun and interesting for you. It is easier now with the use of this pen than doing manual embroidering. A game-changer and a hack for all beginners out there!
Great Past Time Hobby
If you are looking for something productive to do, embroidery is a great idea. You can out your valuable time into something worthy. Practice makes perfect and the more you use this pen, the better outcome you can have. A hobby can be turned into a business! You can start small and when you are already good at it, you might sell your artworks too! Design your old clothes and put colorful embroideries or make an original design on a separate frame. You can do a lot of arts and crafts with this tool!
Handy and Portable
This really looks like a pen. No more manual sewing just to make a tiny embroidered flower. With this pen, any design you can imagine can come out to life. It will be easier than manual and you can get to save a lot of time and effort! It is very easy to use and all you have to do is poke continuously on the fabric until you finish the shape or object that you want to make. No more hurting fingers and hands with the use of this pen!
Easy to Use
All you have to do is insert the thread color that you like and you can start working right away! It has different sizes of needles so you can freely choose which size will suit the art that you will make. Also, there is a hole adjuster on the holder of the pen so you can control and manage how the sewing will look like. You will surely be amazed and you will have fun using this pen!
| | |
| --- | --- |
| Weight | 0.06 kg |
| Dimensions | 15 × 15 × 15 cm |