Consumer Electronics, Convenience, Home Improvement, House and Home, Popular
Light Socket Motion-Sensing Bulb Holder
In Stock
(Ships Out Within 24 Hours)
Has infrared sensing mode that detects movement so it could light up automatically
Built-in features: Light sense; range; and delay
Dimensions: 100 x 80 x 40mm
Max. current: 0.5A/ Voltage: 110V-250V
Distance: 2-12m/ Illumination: 5LUX~5000LUX/Delay time: 10~300sec/Sensor angle: 110~140degree
Package contents: 1 x Light Socket Motion-Sensing Bulb Holder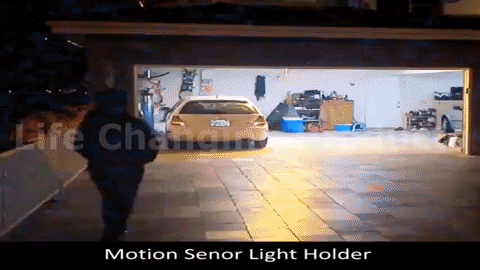 $36.54
& Free Shipping Worldwide
Light Socket Motion-Sensing Bulb Holder
Light sockets are hardware parts where light bulbs settle for putting to use. This particular light socket doesn't need so much installation. The Light Socket Motion-Sensing Bulb Holder can help detect movement which makes it the better lightbulb holder.
Infrared Security
Safety at home is paramount so people may spend a little more for systems. There are various ways that people can alarm themselves. They can be security devices from within the home, thus, preventing thieves and robber from getting in. Other tools are installed outside to keep them from getting near the property. The Light Socket Motion-Sensing Bulb Holder is a non-installed light socket that offers infrared motion-detecting capabilities. It automatically lights up once it senses movement from an extensive range of vision. It lights up the moment a movement is detected and stays on until the target is not insight anymore. There's no complicated installation needed. You can move this around anywhere in your home, too. Bring and place it wherever you will need the lighting: the kitchen, by the stairs, the basement, bathroom, the garage, the closet, and more.
Best Emergency Lighting
The light will automatically come on when it detects a person or animal coming. If you live in an area that gets power interruption once in a while, this is the perfect device to have around. It's not affected by the power at all. You can go about the house, and if you have a few of this device in your home, you'll be walking around with light automatically coming on. It has three features: Light sense (leftmost with the sun icon) is for the light activated during the day and for a much brighter one; the range is for detecting where the person or animals is (middle); finally, the delay feature helps reduce the time.
| | |
| --- | --- |
| Weight | 0.1 kg |
| Dimensions | 13 × 11 × 1 cm |