Consumer Electronics, Convenience, Eco Friendly, Fun Stuff, Gadgets, Home Improvement, Reusable
Bathroom LED Toilet Bowl Light (8 Colors)
318 Orders
In Stock
(Ships Out Within 24 Hours)
Motion-activated and l

ight sensitive for maximum battery life

Fits any toilet and is easy to install

8 color options (Blue, Red, Green, Aqua, Rose, Purple, Yellow, or White)

Smart and energy-efficient affordable device

Power Supply: 3x AAA Batteries (Not Included)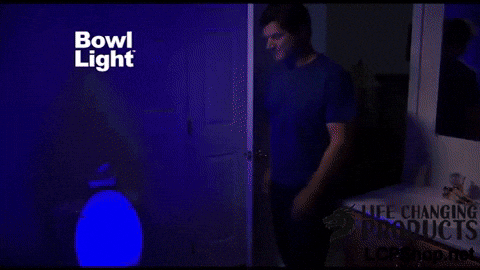 $43.90
Free Shipping Worldwide
Lifetime Warranty
Bathroom LED Toilet Bowl Light
Do you have a habit of always in the need to go to the bathroom in the middle of the night? Then you better have this cool LED Toilet Bowl Light! There is no more need for you to turn the lights on in your bathroom if you have this toilet seat light installed in your bathroom. Because this one lights up as soon as it senses movement and motion!
Motion Sensor
This toilet light automatically turns on and off as soon as it senses motion. So as soon as you go near the toilet seat, it will automatically light up. You don't have to turn the lights anymore inside the whole bathroom in the middle of the night which might disrupt your sleepy head.
Easy to Install and Energy-saving
It is light sensitive so it just turns on in the dark and also only if it detects movement. You can save more energy than using the lights in your bathroom. Also, the frequent changing of the battery is not a problem as it will guarantee that it can be used for a very long period of time.
Encourages Potty Training for Kids
Perfect if you have kids at home so it will be easier for them to go to the bathroom. No more tripping through the darkness or asking your help to reach the light switch. You can also choose between different light colors you want which is really fun to see. Your kids will be motivated to always use the toilet seat if you have this installed in your bathroom. You can choose from 8 colors just like the rainbow!
| | |
| --- | --- |
| Single / Pair | Single, Pair |