Consumer Electronics, Family & Child, Fun Stuff, Gadgets, Gift Ideas, Popular
LED Mask Sound Reactive Clown Halloween Costume
In Stock
(Ships Out Within 24 Hours)
Lights up when music is playing
Battery-operated, very easy to use
Flexible can fit into your pocket
Fits all face sizes, comfortable to wear
Perfect Halloween or party costume
Available in different clown faces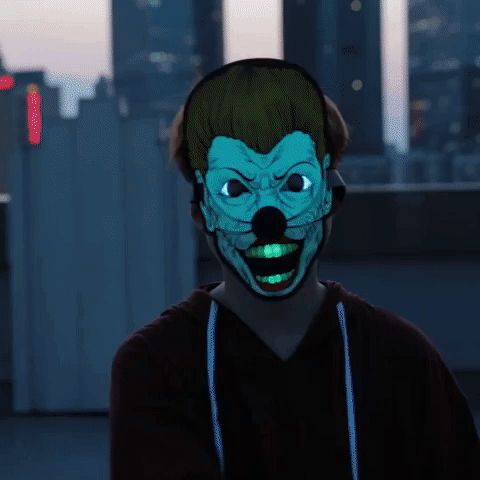 $30.48
& Free Shipping Worldwide
LED Mask Clown Halloween Costume
This LED mask is only 0.3mm thin, a Halloween costume mask made to another level! Believe it or not, it lights up and goes to the beat of the music! It is flexible, you can fold it and put in your pocket. Battery operated and only consumes low energy. Brings amazing uniform brightness and colors when music is playing.
The masks are adjustable and can fit a person's face. Perfect for Halloween and to any parties where music is played. Catch the crowd's attention and be a conversation starter with this mask.
It is easy to set-up and needed batteries to operate. Comfortable to use also because of its protective foam. You can also display it in the room as you play your music.
Share this unique and amazing product your family and friends. Be amazed at trying this mask on.
How It Works
A phosphorus ink is used in this mask which is controlled by a lithium modulator. Phosphorus enables the mask to have maximum illumination.
The modulator signals into the visual patterns which are visualized by the LED lights. Then it makes it glow and move to the beat of the music.
The battery is concealed in the modulator and power cables are built inside the straps. The circuit only takes up low power which makes it safe and comfortable to use.
| | |
| --- | --- |
| Weight | 0.12 kg |
| Dimensions | 12 × 12 × 12 cm |