Consumer Electronics, Featured Products, Gadgets, Home Improvement, House and Home, Popular
LED Lights Dimmable Bulbs
In Stock
(Ships Out Within 24 Hours)
These LED lights consume less electricity and generate bright lights without IR radiation and UV.
Includes a remote for changing into 16 colors and 4 different light modes. It's also dimmable.
Use it on any event at home or at a place of business anytime you want.
It has a voltage of 90-260.
The bulbs are powered at 6-10W.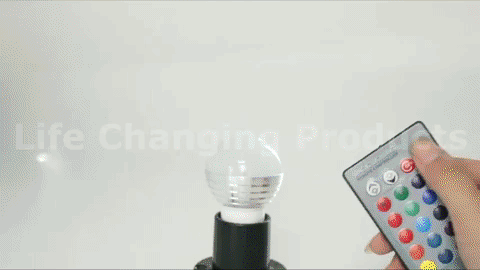 $29.38
& Free Shipping Worldwide
LED Lights Dimmable Bulbs
LED lights are always in demand all year round because they are a popular alternative to regular fluorescent lighting. For one thing, they are power savers. They also come in different forms and in one as LED Lights Dimmable Bulbs!
Safer and Less Consumption
These LED lights are providing lower heat production without IR radiation and UV. It produces high brightness while using lesser electricity compared to other LED bulbs. They also prove to be environment-friendly because they are recyclable.
Color Variety and Convenience
Unlike other lights, the LED Lights Dimmable Bulbs can dress up in any of its 16 colors. Just grab the remote and browse through its color anytime you want. Will you be having a party? Perhaps a romantic night with someone special? The LED Lights Dimmable Bulbs! It wipes out the need to set up more lights just for the sake of an ambient change. It's saving you the trouble of going to the hardware store to spend more money on lights. It makes a lot of difference to save some time on event preparations as well. One of its best parts is that you can also lower the intensity of the lighting to your preference.
Explore Its Features
You'll find that not only can you change the colors of the LED lights, you can also set up if it will emit one color at a time or if you want to set up four different series of changing colors. There are four modes you can choose from for a party setting: smooth, strobe, flash and fade. Not only is this going to look great in a home, but establishments wanting to attract business through the atmosphere will benefit from these LED lights. Whether on holidays or just a regular day, you can make it special with these awesome lights and maybe brighten someone else's day with them!
| | |
| --- | --- |
| Weight | 0.08 kg |
| Dimensions | 5 × 6 × 5 cm |
| Type | E27 5W, E14 5W, E27 7W |