Eco Friendly, Gardening, Popular
Hydro Mousse Liquid Lawn Seed Sprayer Gun
1,702 Orders
In Stock
(Ships Out Within 24 Hours)
Grow grass anywhere
Can grow up to 107.5-foot (10 square meters) square area
For fixing dry spots, shades, etc
Easy and effective to use
Package includes: As the picture shows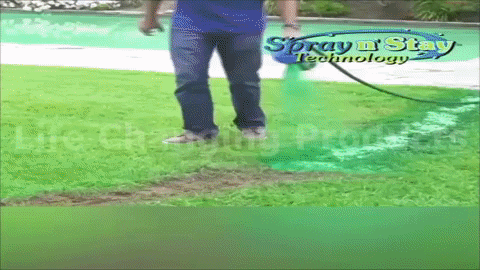 $37.00 – $58.90
Free Shipping Worldwide
Lifetime Warranty
Hydro Mousse Liquid Lawn Seed Sprayer Gun
Grow grass where you spray it with the Hydro Mousse Liquid Lawn Seed Sprayer. Attach to any garden hose and you can clearly show where you are planting as you spray. Each kit can reseed a 100-foot square area / 10 square meters or 200 spots. Easy to apply and provides the perfect solution for homeowners with patchy lawns that need repair.
Advantages
Fix dry spots, shades, dog spots, and other areas you want to have grass. Achieve and establish a desirable and lush looking lawn.
How to Use
NOTE: Suggested to Use Gloves
Prepare the area for planting

Remove debris and dead grass. Loosen top layer of soil and moisten it with water.

Practice first with an empty canister

Attach the nozzle to the canister with your garden hose and water your lawn to get a feel for how it works. Keep practicing until you get the hang of it. Practice makes perfect!

Plant

With the dial in the off position, connect the hose and turn on the water.
Turn the dial to light seed, and fill the canister 3 quarters full of water, then turn the water off for at least 30 seconds to allow proper coating of the seeds.
When you are ready, turn the water back on and start seeding the area you want to treat.
Turn the unit on/off as you move through your lawn.

Watering and Growing

Water your newly seeded area 2-3 times a day, keeping the soil moist for the first 14 days.
It takes between 7-14 days for the seeds to germinate and up to 30 days for full growth coverage.
| | |
| --- | --- |
| Weight | 0.55 kg |
| Dimensions | 10 × 10 × 10 cm |
| Feed Type | Pressure |
| Brand Name | VOKPRO |
| Cup Volume | 5L |
| Model Number | D260079 |
| Usage | Home DIY |
| Power Type | Electric |
| is_customized | Yes |
| Application | Liquid Lawn |
| Type | Liquid Lawn |