Consumer Electronics, DIY, Fun Stuff, Gadgets, Popular, Sports Accessories
Helmet Stickers Electroluminescent Light
2,583 Orders
In Stock
(Ships Out Within 24 Hours)
An electroluminescent (EL) sticker for your helmet
It is super bright and adds an extra security measure at night as you travel
It has a controller that requires 2 x AA batteries equipped with a clip
Has 3 light settings: Always ON, flashing, and fast flashing
Available in 4 colors: red, blue, yellow, pink
Package contents: 1 x Helmet Stickers Electroluminescent Light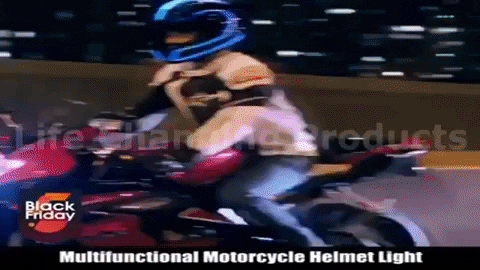 $45.84
Free Shipping Worldwide
Lifetime Warranty
Helmet Stickers Electroluminescent Light
Helmet stickers typically are merely for decoration to make a statement. Others, like the Helmet Stickers Electroluminescent Light, add extra security to the helmets in the middle of traffic. If you're always on a motorbike, it's essential for you to have it on your helmet.
Safe Travels At Night
When your motorbike is the only transportation, and you had to use it at night, you can never be too safe while driving. There are many ways that one could get into an accident no matter how one is careful. Reflective signs are beside roads, and reflective decals are available in shops. However, when these are not bright enough, you can get electroluminescent or EL stickers for your helmet. Such as the Helmet Stickers Electroluminescent Light that can aid you anywhere you go. These stickers are not merely reflective but bright enough to be shining in the night. It's operated by batteries but consumes low power. It also includes three meters of adhesive, so you can adequately stick the EL to your protective motorbike helmet. The EL sticker also has three light modes that enable you to set it up accordingly.
Designed To Save You
It's not randomly designed to be on a helmet. It is shaped to be aesthetically pleasing to add a bit more edge to your headgear. You can stick around your helmet from the left of the jaw, going to the back and then to the right. You can set the EL to be always ON, to flash or fast-paced flashing. There's a controller for setting the light that you can easily set up. There are four colors available like red, blue, yellow, and pink. The controller is also equipped with a clip so you can attach it to your clothing. When you order it, it comes with its own OPP bag to keep the contents safe.
| | |
| --- | --- |
| Weight | 0.4 kg |
| Dimensions | 40 × 20 × 5 cm |