DIY, Featured Products, Home Improvement, Popular, Tools
Heavy Duty Woodworking Clamp
In Stock
(Ships Out Within 24 Hours)
The perfect tool for DIY enthusiasts and hobbyists
It can be used for both woodwork and metalwork
Includes removable soft jaw pads for wood clamping
Made from heavy-duty steel
Available in color red with three sizes to choose from:

1 inch C clamp
2 inch C clamp
3 inch C clamp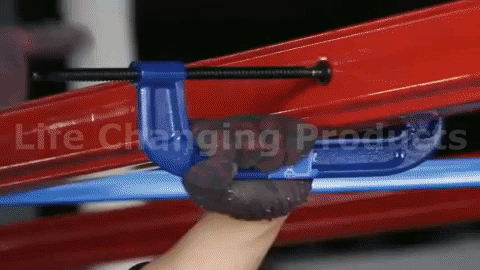 $15.00 – $18.00
& Free Shipping Worldwide
Heavy Duty Woodworking Clamp
Planning on a DIY furniture over the weekend? This Heavy Duty Woodworking Clamp is the perfect companion for your wood or metal works at home. It holds wood and metal effectively that it makes work easier for you. This is a great tool if you are fond of DIY-ing your repairs. It is also a great tool if you want to make a new furniture for your household.
It can hold two pieces of wood tightly. You would not need an additional hand for other works like hammering and sawing. Imagine if you need to nail down one end of the wood and you are working alone. You will definitely have a hard time working. Aside from that, it is more than possible that it will produce a low-quality product because it is not done correctly. This product is a necessary tool for DIY enthusiasts and hobbyists who prefer to work alone. It is not harmful to ask for a helping hand but why would you request for one if you can do it on your own?
The Heavy Duty Woodworking Clamp is made from high-quality steel with a heavy duty construction. This makes the clamps durable and lasts longer. This product also comes with a removable soft jaw pad so you can use it both for woodwork and metal projects. There are three sizes to choose from and is available in color red.
| | |
| --- | --- |
| Weight | 0.06 kg |
| Dimensions | 15 × 10 × 3 cm |