Convenience, Kitchen
Vegetable Peeler Handy Kitchen Gloves
725 Orders
In Stock
(Ships Out Within 24 Hours)
One Size Fits All

The Nubs are Molded Into Gloves

Allows You To Easily Peel Potatoes, Carrots & More

Safer Than Knives Or Peeler Blades

Keeps More Vitamins Intact but not removing more than the peel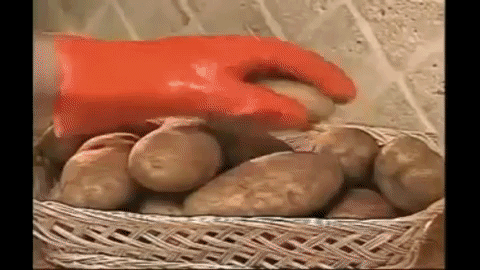 $36.99
Free Shipping Worldwide
Lifetime Warranty
Vegetable Peeler Handy Kitchen Gloves
Peel your potatoes and carrots without even needing a knife of peeler using this Handy Kitchen Gloves. You can just run your thin-skinned vegetables under water and peel them using this gloves. Super fast and effective, only peels the skin. Save time and protect your hands from peeling using sharp knives and peelers.
Simple to Use and Time-Saving
You just wear these gloves just like any ordinary gloves. This is a one size fits all so everyone in the house can totally benefit from this. It saves you the hassle of peeling using a knife which not only peels the skin but the inside too. These gloves have textured surface which you only rub around the vegetables and it removes the skin instantly. Rinse the vegetable, rub your gloves all over it until the skin is removed completely.
Made of rubber latex material, these gloves are durable and will be able to be useful for a long time. It is easy to wash and to store to in your kitchen. The whole palm of this gloves and around the fingers are all textured but leaves the peeled vegetable smooth and still presentable after.
Be able to peel as many potatoes as you need without spending so much time. These gloves are so effective in peeling, lets you be able to prepare and cook your food quicker.