Consumer Electronics, Convenience
Handheld Electric Shoe Polisher Brush
In Stock
(Ships Out Within 24 Hours)
Automatic shoe polisher with 4 brush heads
Has brush for removing dust, applying oil, polishing, and shining shoes
Very handy and easy to use
Battery-operated
Product Size: 

12.5 x 7 x 4 cm

Battery: 2 sections 5AA battery (not included)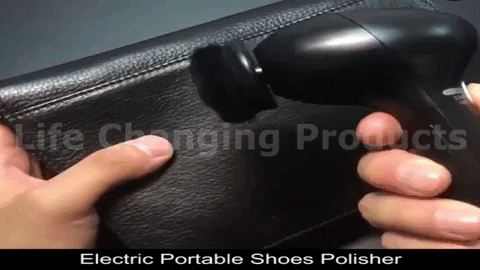 $40.00
& Free Shipping Worldwide
Handheld Electric Shoe Polisher Brush
Make your shoes look like new again with the Handheld Electric Shoe Polisher Brush. This polisher has 4 different brush which you can use from cleaning off the dust to making your shoes shine! Save more money by saving your old shoes first before buying a new pair. Super handy and easy to use which will make your life easier.
4 Brush Attachments
Dust brush

This is the first brush to use to remove all the dust in the surface of your shoes. It can get all the dirt and dust on the sides and corners to make sure its perfect before putting on the polish. This brush has strong but gentle bristles which are safe to use.

Oil brush

You can dip this brush first on the polish or pour the shoe cleaning oil on this brush. It absorbs the polish with its foamy brush construction. This brush will spread the polish in the shoe surface evenly.

Polishing brush

Use this brush after applying the polishing oil on your shoe. This brush will help the polish to be absorbed even more on the shoe surface. Made of soft cloth which is gentle to use.

Shining brush

The last brush to use to get the shiny and bright look of shoes. Its brush is specially designed to make your shoes very well polished and shining after.
Handy and Portable
Very easy to use polisher which allows you to change the brush heads easily. The battery-operated function makes cleaning and shining of shoes fast, easy, and effective. In just a push of a button, you can quickly turn it on and change the rotation power between high and low. Has an included case for all the tools for safe storage. Save time and effort cleaning your shoes every day.
| | |
| --- | --- |
| Weight | 0.23 kg |
| Dimensions | 18 × 9 × 5 cm |