Family & Child, Featured Products, Fun Stuff, Games, Gift Ideas, Popular
Glow Tracks Magical Race Rail
In Stock
(Ships Out Within 24 Hours)
Has a flexible DIY race tracks, you can customize the way you want

Can help your child develop his mental and physical skills

Provides fun family time and great learning experience

Colorful Race Track  ( it's shipping via random colors)

Material: ABS Plastic/ Car Battery: 2 1.5 AA batteries(not included)

Suitable for age: 3 years old and above

Variations:

80 pieces x 1 car

100 pieces x 1 car

162 pieces x 1 car

165 pieces x 1 car

220 pieces x 1 car

240 pieces x 1 car

Crossroads

Extra Car Blue

Extra Car Red

Stone Road

Rotating Table Red

Rotating Table

Bridge

Turn Table

Arch bridge

Fork Road

Gate

Lift Set

Red Fire Truck

Green Fire Truck

Police Car Blue

Police Car Black

Green Sports Car

Blue Sports Car

Red Sports Car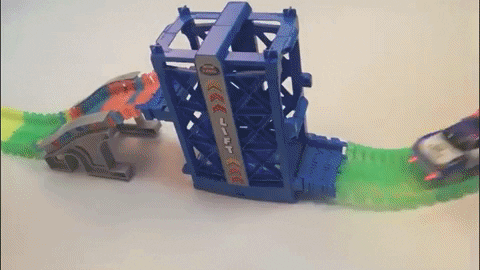 $27.66 – $40.84
& Free Shipping Worldwide
Glow Tracks Magical Race Rail
Glow tracks are bendable and glow in the dark feature. Its magical race rail attracts children. This magic toy is favorite to little boys, and it can contribute to their brain development because children can express themselves through playing. It allows them to interact with others, and it can help them learn new things.
Similarly, playing is necessary for children. They need to enjoy their younger years while exploring. This race rail can help him develop exceptional abilities and skills. He will love the colorful race track, and it contributes to his imagination. Also, it can provide him a healthy development while at the same time, you can develop a stronger bond with your child. This toy allows you to spend some quality time with your children. It's proof that playing with toys is very important.
Benefits Of Playing
It's true that toys have a significant influence on children. At a young age, it helps them become creative and wise. For example, you are building a race track with your child. Aside from the quality time that you both spent, he will have time to enjoy. He can enjoy learning and thinking, and he will think critically on how to build the tracks like how you did. Toys can influence a child's mental ability.
It allows him to be more creative and building the track helps enhance his logic. It is best to encourage your child to play so that he can fully develop his senses and to enjoy the game as well. Also, he will have significant mental, social, and emotional skills, which are very beneficial for their growth. When your child is pretending to play, he can develop excellent social skills. So when they are old enough to play with others, they know how to share.
| | |
| --- | --- |
| Weight | 0.5 kg |
| Dimensions | 10 × 10 × 10 cm |