Convenience, For Him, Popular, Tools
LED Light Glove Finger Flashlight
In Stock
(Ships Out Within 24 Hours)
The flashlight you can't drop.

Light where you need it.

Made of durable and long lasting neoprene.

Universal comfortable fit.

Long-lasting replaceable battery included.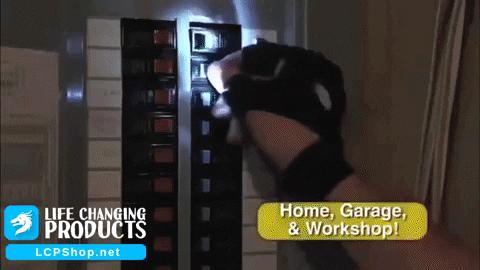 $36.99
& Free Shipping Worldwide
LED Light Gloves Finger Flashlight
This Light Glove is the kind of flashlight that you cannot drop. You can easily work with your hands easily in the dark and search for things with the built-in lights in its thumb and point finger part. Use during emergencies like fixing the cable wires during power outbreaks or while fixing your car while raining.
Easy and Comfortable to Use
This Flashlight Glove is very easy to use. You just wear it in your hand and you have an instant light in your two fingers when needed. It fits all hand sizes and is comfortable when worn. Your skin can still breathe while wearing it. You can easily search in your toolbox even if its dark or fix things with your hand without the need of holding a flashlight. LED Light Glove will produce bright lights to the area where you are pointing on it.
Great Light Source for Different Outdoor Activities
These gloves are waterproof and wear-resistant. It is a very useful tool while you are on a camping adventure, fishing, hunting or camping. Your hands are free from holding anything or a flashlight because the light is already built-in on this glove. You can easily point the way as you hike in the night and your companions can see it too. This is a very handy tool you can use in all kinds of emergencies.