Convenience, For Her, For Him, Home Improvement
Forearm Lifting and Moving Straps (Set of 2)
530 Orders
In Stock
(Ships Out Within 24 Hours)
100% Polypropylene

Employ leverage making lifting 66% lighter

Encourages proper lifting technique

Rated for items weighing up to 700 pounds (317 kg)

Back harness not included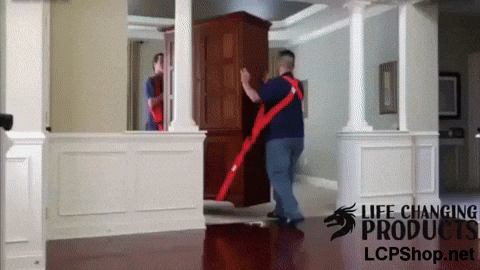 $49.00
Free Shipping Worldwide
Lifetime Warranty
Forearm Lifting and Moving Straps
Are you redecorating your house or moving in? Then let these Lifting and Moving Straps help you easy and fast in moving your furniture! Save more time and effort through the day because these straps will offer you a great help in lifting and be moving around your heavy stuff.
Lifts and Moves Your Things Safe and Easy
No more hurting your hands, backs, and bodies. These straps are smartly designed to make lifting or moving safe and easy. It will evenly distribute the weight on you arms which will make the job very smooth and comfortable. Lift up your cabinets, sofas, and other appliances fast and easy using these straps.
Strong and Durable
Made of high-quality durable materials which can lift heavy objects up to 317 kgs! Can you imagine how useful these straps would be? Move your stuff even if you are alone or there's two of you to lift them up. The straps are versatile and you have the freedom on how you will position the straps to make lifting easier.
Easy to Use
No more damaged stuff nor scratched floors while moving your things. These straps easily slip under your furniture and appliances so you can easily able to move them around. The straps are adjustable on part of your hand so you can change how high or low you need to lift an object.