Convenience, For Her, For Him, Health And Beauty
Eyebrow Scissors Trimmer Shaping Tool
391 Orders
In Stock
(Ships Out Within 24 Hours)
Combs and trims eyebrows in one motion.

Trims evenly for natural looking eyebrows.

Material : Plastic and Metal.

Size : 12.5 x 5 x 0.6cm / 4.9″ x 1.9″ x 0.2″(L*W*T).

Ergonomically designed handle for comfort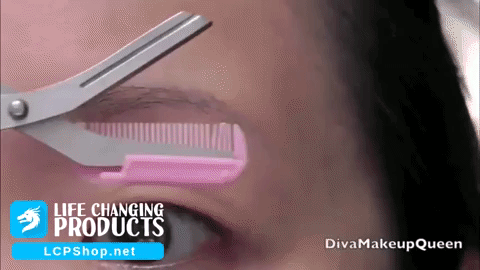 $21.96
Free Shipping Worldwide
Lifetime Warranty
Eyebrow Scissors Trimmer Shaping Tool
Transform your eyebrows into a professional look using the Eyebrow Scissors Trimmer Shaping Tool. Shape and trim your eyebrows to its perfect shape anytime. Blades specially designed to make trimming fast and easy and hassle-free. It has a built-in mini comb which helps to have a perfect eyebrow shape.
Convenient and Easy to Use
This Eyebrow Trimmer is just like any other scissor in terms of use. Only the difference is the size and the angle of the blades. The blades of this eyebrow trimming scissors are angled or slightly curved to help you use if easily while cutting hair in your brows. It lets you trim comfortable without your fingers getting tired and numb. The handles are fitting your fingers perfectly for a strong grip. Plastic materials cover the handles so it will not slip while in use and will be comfortable to the user's hand.
Compact Size
You can style and shape your brows anytime and anywhere you wish to. This scissors will easily fit into your vanity kits and purses making it very accessible when needed. It is lightweight and so convenient to carry even when you are out traveling. You have an eyebrow styler on hand where you can use anytime. Perfect for a quick touchup before heading to a meeting or before attending party events and other special occasions.