Consumer Electronics, Convenience, Kitchen
Electric Food Vacuum Sealer Packing Machine
2,346 Orders
In Stock
(Ships Out Within 24 Hours)
Fir packing meat, fish, fruits, veggies, etc.
Packing and vacuum sealing function
One button operation
Can be used on ordinary plastic bags too
Low noise operation
Can seal and vacuum content with a width less than 295 mm
Sealer bag size ( L x W ): 25 x 20cm, thick: 0.19mm
Product size (L x W x H): 36.50 x 5.45 x 5.00 cm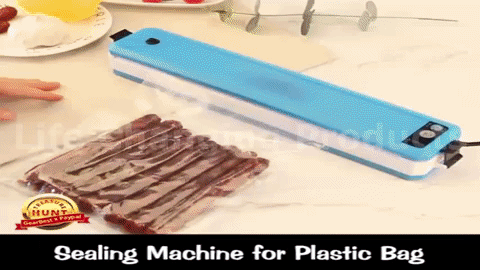 $89.99
Free Shipping Worldwide
Lifetime Warranty
Electric Food Vacuum Sealer Packing Machine
Keep our food fresh and make them last longer by using a very efficient packing machine. The Electric Food Vacuum Sealer will make your meat, fish, fruits, and veggies to last longer than it should be. It leaves no air inside the bag making it airtight which keeps it fresher and longer for use.
How It Works
This vacuum sealing machine is specially designed for packing foods and other products through plastic vacuum packaging or just a normal plastic sealing. You can literally pack anything on it – fresh meats, veggies, fruits, cooked food, desserts, and any other dry goods. Using this sealer can maintain the original state of the food which keeps it still fresh as you store it. And to do that, you can use just half of the vacuum packing. Once the food is packed, it is already safe from moisture, bacteria, mold, etc.
This product is very easy to use as it only has one button system for operation. It has a magnet on the back so you can attach it to any metal surface like your refrigerator. No worries of use as it does not vibrate and only makes a low noise while operating.
Precautions for Use
If you are to pack foods which are prone to moisture like meat, fish, veggies, etc., you must first wipe the moisture with a tissue or instead wrap it first in a disposable plastic bag before using the vacuum.
For packing powdered food or grains, you must also first put it in a plastic bag before vacuuming. The particles may go inside the machine and can cause malfunction.
Only pack solid and dry food. Do not try to vacuum liquid foods like water, juices or soups.
Make a small air hole in the sealed bag if you are going to microwave the food.
Let the machine rest for a while if you are using it for a long straight time. Cool it down every now and then before resuming your work.
When storing the machine, split the cover and hook.
| | |
| --- | --- |
| Weight | 0.72 kg |
| Dimensions | 38 × 10 × 6 cm |