Consumer Electronics, Family & Child, For Her, For Him, Fun Stuff, Gadgets, Games, Home Improvement
Funny Dog Coin Bank for Children
679 Orders
In Stock
(Ships Out Within 24 Hours)
Cute Battery Operated Doggy Coin Bank

Realistic Movements and accepts virtually all coins!

A fun way to teach your children to start saving.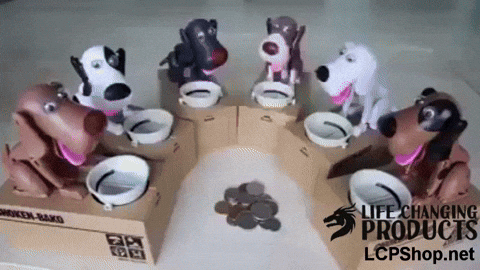 $42.85
Free Shipping Worldwide
Lifetime Warranty
Funny Dog Coin Bank for Children
Start teaching your child how to save money but in a fun way with this Funny Dog Coin Bank. Make money saving funny and enjoyable as you watch the dog eats away the coin when you put it. Your kids will surely love now saving coins as soon as they see how cute and fun these coin banks are.
Features
Made for high-quality safe plastic material which is strong and sturdy. Place it on a safe flat surface but also be careful not to drop them from higher places.
Battery operated but will not consume much energy.
Size is just enough for kids so they will be excited about filling it up easily which encourages them more to save.
Easily Encourages Kids to Save Money
Super cute dog designs which move and chomps on the bowl when a coin is placed. It is mimicking a real dog when food is served in its bowl. It is so funny to watch. For sure your kids will be able to fill the coin bank fast and easy. They will not get tired watching the dog moves everytime they save a coin inside.
Clever way to encourage kids to save money at an early age. Perfect gift for all kids and dog lovers you know. Can be as a collectible item too because of its very cool idea!