Convenience, Featured Products, Kitchen, Popular
Cutting Tools Watermelon Slicer
3,600 Orders
In Stock
(Ships Out Within 24 Hours)
Allows you to make clean and quick slices of watermelon
Suitable for quick and easy slicing and carving of fruits
Easy and convenient to use, great gift for family gatherings, birthdays and other special occasions
Materials: Stainless Steel and PP
Size: 25.5 x 9.5cm/10 x 3.74″
Package Includes:

1 x Cutting Tools Watermelon Slicer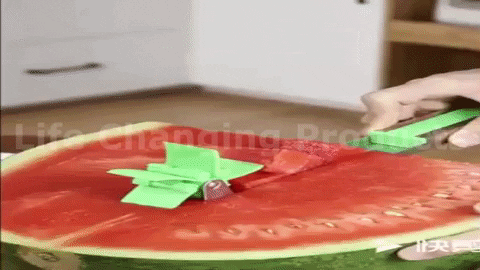 $28.63
Free Shipping Worldwide
Lifetime Warranty
Cutting Tools Watermelon Slicer
If you are looking for cutting tools that are easy to use, then get this watermelon slicer for your kitchen. You are going to adore how this slicer is going to be your excellent partner when it comes to fruit slicing, cutting and carving. Especially when it comes to slicing your watermelon, you find it hard to slice it, and it makes you lazy to do it. But when you use this, you are going to achieve perfectly cut watermelons. It comes with an automatic cutting blade that enables you to cut the watermelon into a cube bite size. There are a lot of fruits that we want to buy, but when we think about the effort that we have to exert, we think twice about buying it. But when you have cutting tools to help you with it, then go ahead and buy it!
Make Quick Slices Of Watermelon
You are going to adore how such cutting tools can help you to cut perfectly cube-shaped slices of watermelon every time! It has a unique composition that allows you to make quick and clean slices of watermelon without the sweat. If you have kids at home, you want to serve them snacks that are healthy and easy to make. You avoid foods that are not good and fit for them, like junk foods and sweet treats. So instead of giving them those kinds of foods, provide them with something healthy for their snack. Serve them fresh fruits that will be good for their health. Let this slicer help you in giving your kids clean and healthy snacks.
Easy and Convenient To Use
When you discover kitchen tools that will help you to make your chores more manageable, then share your discovery to others too! Let them know that there are cutting tools that are easy and convenient to use. This watermelon slicer will make an excellent gift choice for family gatherings, birthdays and other special occasions.
| | |
| --- | --- |
| Weight | 0.06 kg |
| Dimensions | 1 × 1 × 1 cm |
| Type | Fruit & Vegetable Tools |
| Fruit & Vegetable Tools Type | Shredders & Slicers |
| Material | Metal |
| Metal Type | Aluminum |
| Certification | CE / EU |
| Model Number | New |
| Feature | Eco-Friendly |
| Brand Name | MOONBIFFY |