Convenience, Kitchen
Round Blade Chopping Knife Kitchen Tool
In Stock
(Ships Out Within 24 Hours)
Made from high-quality stainless steel.

The handle is designed with a non-slip grip material.

The Rolling Knife can be used to cut a variety of foods in a short time such as pizza, vegetables, herbs and much more.

The ergonomically designed handle allows for a comfortable and firm grip while the sharp blades make chopping herbs or even irons, finely and effortless.
Simply roll the blade back and forth until you get the consistency you want.

Easy to clean.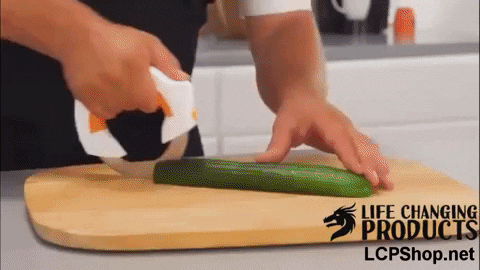 $42.99
& Free Shipping Worldwide
Round Blade Chopping Knife Kitchen Tool
Cut and chop your food ingredients fast and easy using this Round Blade Chopping Knife Kitchen Tool. You don't have to lift your hand anymore every now and then while chopping because this rounded knife allows you to cut and chop while just sliding the knife on the food. Super fast, safe, and convenient.
Safe to Use
At first glance, this knife really looks weird and dangerous to use. But as soon as you see and learn how to use it, it will become your favorite chopping and cutting knife in your kitchen! The blade is super sharp which will slice and cut herbs, fruits, and vegetables in one clean slide! Try to throw tomatoes on its blade and it will cut it perfectly and smoothly. Get work done as easy as fast as possible using this round knife.
Smart Design
You can choose to lock the blade or choose to make the blade rotate as you use it while cutting or slicing. This knife's handle is very easy and comfortable to hold. It won't slip in your hands while you are cutting your food. You have the control on its handle for controlling the blade if you want to lock it or allow it to rotate.
It has a blade protector which slides when it's not in use and has locks for keeping the cover in place. You can easily store it in your kitchen drawers without hurting anybody.
| | |
| --- | --- |
| Color | Red&Black, White&Black |