Tools
Chipping Hammer Welding Slag Remover
2,890 Orders
In Stock
(Ships Out Within 24 Hours)
Industrial grade tool; removes slag and spatter residue from welded objects
Removes slag by using the flat part, and remove the spatter by striking the weld
Spring handle is non-slip for heavy-duty cleanup work
Material: high-quality carbon steel
Dimensions: 15cm x 2.8cm/ Handle 15cm/Weight: 500g/ Total Length: 29cm
Product package: 1 x Chipping Hammer Welding Slag Remover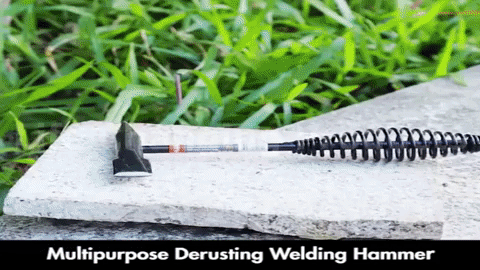 $25.22 – $29.26
Free Shipping Worldwide
Lifetime Warranty
Chipping Hammer Welding Slag Remover
A chipping hammer serves as one of the primary clean up tools after a welding operation. It removes slags and spatters that occur during the process of welding. Because of it, the Chipping Hammer Welding Slag Remover can be seen as a 2-in-1 tool.
The Bane of Welders
Slag and spatter – common types of residue produced after abnormalities occur when welding. A chipping hammer is for removing the solidified waste coming from the material when melted. The spatter occurs when the amperage and the voltage driving the welding tool becomes imbalanced. It's when the voltage becomes too low and the amperage too high that affects the combination of gas and wire. In MMA type of welding, slag comes from the deoxidation of these materials: surface oxide, flux, and air. The slag forms when weld beads overlap and then forms into a void. These byproducts are unsightly to look at, not to mention they can cause havoc on certain types of machinery if they are not removed. The chipping hammer can remove both the spatter and slag by striking the weld. This action vibrates the material and upon receiving a direct hit shatters them.
High Caliber Clean Up Tool
This tool is made of high-grade steel that's durable. Because it is used for striking metal, the device must also be up to par with its strength. The unique spring handle is for the non-slip grip since it will be doing hard work in removing the mess. This hammer can also serve as an icebreaker when breaking blocks of ice. It will also work on materials that had rusted. It is a useful tool for metalworking, welding, in construction, and more. Indeed, it's an industrial grade hammer that once should have in his toolbox, whether this is for personal use or factory and construction process.
| | |
| --- | --- |
| Weight | 0.6 kg |
| Dimensions | 36 × 29 × 1 cm |