Convenience, Outdoors and Camping, Pets
Capsule Shaped Pet Carrier Backpack
4,877 Orders
In Stock
(Ships Out Within 24 Hours)
A traveling backpack to carry your pets
Breathable and safe for your pets
Suitable for all seasons
Package includes a free fish toy
Available in 4 different colors (red, blue, yellow and pink)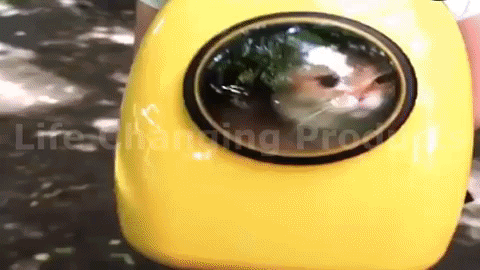 $114.90
Free Shipping Worldwide
Lifetime Warranty
Capsule Shaped Pet Carrier Backpack
You can now bring your pets anywhere with the Capsule Shaped Pet Carrier Backpack. Traveling with your pets will never be a problem anymore. This product comes in a unique design that looked like a space capsule. It is completely safe for your pets because it is well ventilated. In addition to that, the design includes a transparent window where they can see what's going on outside of the bag. This is very suitable to be used outdoors and travel along with your pet. Travel with them in the most fashionable way.
The Capsule Shaped Pet Carrier Backpack is suitable for all seasons. It can carry pets with the weight of 8 kilograms in maximum. The product is breathable so you do not need to be worried that your pets can get suffocated by the lack of ventilation. It is also comfortable for them because the backpack has a cushion attached inside. You can also use it as a backpack or wear it in front of you for your pet's security and your peace of mind.
This product is made from high-quality PVC. It is so durable and you are sure that the Capsule Shaped Pet Carrier will last for a long time. There are 4 colors to choose from. You can choose from red, yellow, blue or pink. The package includes the pet carrier backpack with one free fish toy. Your pet can play with it while inside the pet carrier backpack. The Capsule Shaped Pet Carrier Backpack measures 42cm. H x 29cm. W x 32cm. L. In this case, any breed of your pets can use this product.
| | |
| --- | --- |
| Weight | 1.4 kg |
| Dimensions | 30 × 30 × 20 cm |